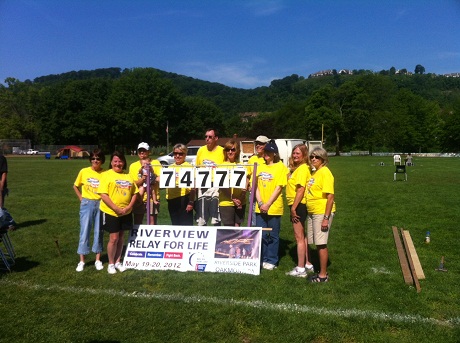 Recently, several members of the Davison Team made tracks at two Pittsburgh charity events.  One of our Corporate Creative Coaches led a team in this year's Riverview Relay for Life and a Senior Director of New Products led another team in the St. Margaret Foundation's 2012 Fitness Classic!
We're happy to report that we've heard from both team leaders and this year's events were resounding successes!
Here's our Corporate Creative Coach's report on the 2012 Riverview Relay for Life:
The Relay For Life in Oakmont this year was a great success!  Davison was a corporate sponsor this year again, and individual donations were received from [several Davison employees].  Last year [as part of our fundraising efforts], we had three dinosaurs and, this year, we added a Brachiosaurus to the family!  He was a great seller, but the T-Rex was again the best seller.  We raised a total of $232, nearly [doubling the] money brought in from the dinosaur sales and foam dart games from last year.  Word spread quickly around the Relay [as to] where the foam dart shoot and cardboard dinosaur booth was and the kids (and parents) came in great numbers!  Two local Pittsburgh sports mascots also stopped by to check out the booth… both the Penguins' Iceberg and Steelers' Steely McBeam stopped by the booth to shoot darts, as well as let us shoot them in their fleece costumes, which make great Velcro Nerf dart targets!
In all, the Oakmont Relay and its teams raised $74,777!  WOW!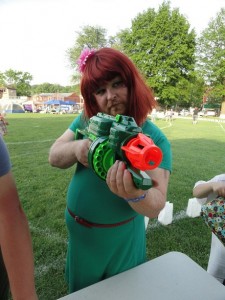 There is a part of the event called "Miss Relay," where a team member dresses like a beauty queen and walks the track with a purse collecting donations.  I remember one "Miss Relay" in particular [that] stopped by our booth and shot a few darts.  We let "her" do it for free since "she" was working so hard at being Miss Relay; but, I then payed "her" a donation to leave the booth, because "she" was freaking me out!
I would like to send out my thanks to everyone who contributed and helped out this year.  We will certainly have to raise the bar once again for next year's relay!  [Last year, I predicted this year's success!]  I said, "Hint — it's going to involve a lot more Nerf guns, targets, dinosaurs – and even more fun!"  The extra Nerf guns and dinos were an awesome success!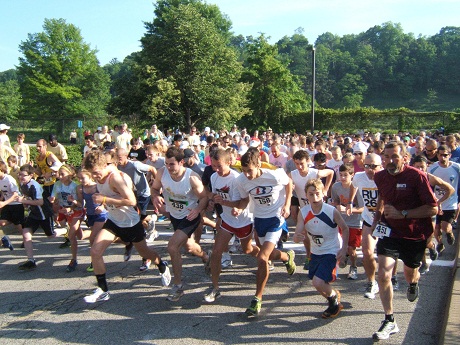 Our Senior Director of New Products also gave us an awesome report from the St. Margaret Foundation's 2012 Fitness Classic:
St. Margaret's Fitness Classic was a blast!  [Several Davison employees] showed up with [their families] and dogs… fun for the whole family!  [A few of us] started near the front of the pack running… but, running the whole distance was a little more than we were prepared for!   [A couple employees] represented Davison's Irwin location by completing the 5K, also!
Everyone was dressed, on time and ready to go!  It was a great cause and I'm glad we were able to contribute!
For more information on the St. Margaret Foundation's 2012 Fitness Classic, click here!
Congratulations to everyone who contributed to making both the Riverview Relay for Life and the St. Margaret Foundation's 2012 Fitness Classic such awesome events!