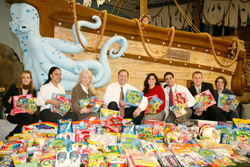 Mr. Davison personally donated $1500 for the second part of Davison's two-part holiday giving project. With this money, employees purchased creativity-stimulating toys for children of the Child Advocacy Center of Children's Hospital. Davison prides itself on fostering creativity, and this holiday season, the company extended its mission to children in need.
Employees from every department pulled together and volunteered their time in order to execute the second part of Davison's holiday giving project. A number of individuals shopped for creative toys, organized the toys and delivered the toys to the center.
A total of 81 children at the center received gifts from the company. Younger children received creativity kits with construction paper, markers, stencils, colored pencils and stickers. Others received coloring books and crayons, building blocks, modeling clay, and writing and illustrating books. Older children happily accepted paint kits, scrapbooking materials, sketchpads, professional pencils and pens, three dimensional puzzles and toy model sets. Davison also donated its latest mealtime interactive products to children of the appropriate age.