Just like last holiday season, Davison-designed Pugz shoes are prancing their way into hearts worldwide! We first saw the faux fur and faux leather boots pop up on K-Earth Radio host, Lisa Stanley's, professional blog.  Stanley tried the boots on her little pup, Molly, prior to a trip to cold and snowy Utah.
Apparently, Stanley's trial went well.  Her blog reported: "Looks like Molly will be kept stylish and warm for the winter."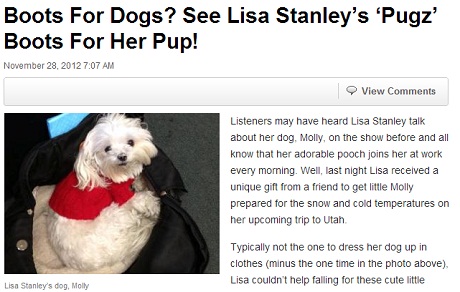 ____________________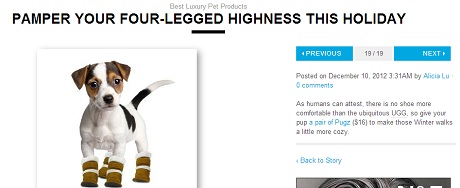 The trendy boots that our client, Kay, invented also popped up on PetSugar's "Best Luxury Pet Products" list this holiday season.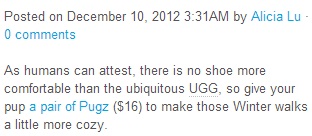 The list includes items that will "truly pamper your dog or cat" and said that Pugz will "make those winter walks a little more cozy."
And, we're not saying which product, but another Davison-designed pet innovation may make an appearance on a TV show this week.