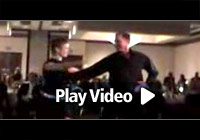 George Davison was honored to participate in the Dancing with the Pittsburgh Stars Gala, which raised more than $68,000 for the Cystic Fibrosis Foundation in September 2008.
In addition to raising funds for research and development to find a cure for cystic fibrosis, the annual event also creates awareness about the devastating disease, which affects 30,000 children and adults in the U.S.
"It's about raising money and awareness for a serious need," said Mr. Davison. "We were happy to help out."
The CEO and his Arthur Murray partner, Emily Erny, gave a spectacular dancing performance that earned them second place among the many celebrity dance teams. Davison also was happy to support the event through strong attendance by company executives and business associates.