Although it might sound cliché and fairly obvious, our kids are the future and after the WQED 'Design Lives Here' event that took place on Friday, November 8 at Inventionland, we can assure you that the future looks bright!
Science, technology, engineering and math (S.T.E.M.) were at the forefront of the Invention Convention and these categories are spreading like wildfire in the minds of young kids across the country.
With the holidays right around the corner, GoldieBlox, a company that is devoted to building games for girls in the hopes of inspiring future engineers, is hitting the market at full force!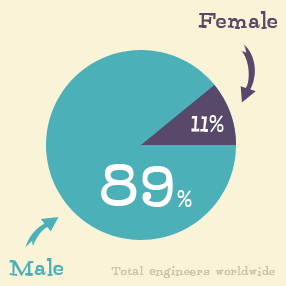 As you can see, the engineering world is predominately made up of men; GoldieBlox took this statistic and ran with it by dedicating their products to encouraging young girls to build and, as they say, "help to level the playing field in every sense of the phrase." Additionally, GoldieBlox taps into a girl's strong verbal skills and pairs their story with the construction sets, in an effort to boost confidence in spatial skills that, in turn, will give young inventors the tools that they need to build and create amazing things!
Speaking of amazing things, if you haven't done so already, check out GoldieBlox's viral video!
These three creative and inventive little girls on a mission to break the mold were also featured on Buzzfeed!
Copyright Davison 2013
Sources:
http://www.goldieblox.com/pages/about
Media:
http://www.youtube.com/watch?v=UFpe3Up9T_g