The doors of Inventionland are always open for scheduled tours and last month in particular, two groups of students and a big name corporation made their way around our 61,000 square-foot workspace!
Despite the fact that National Inventors Month has come and gone for another year, at Davison, we celebrate the inventive spirit all year round!
This past month, we opened our doors to students from the Seneca Valley School District's Haine School, several area homeschooled children and their families and a corporate team from one of the region's largest grocery store chains, Giant Eagle.
Today, we want to give a quick recap of these recent tours!
Inspired students tour through Inventionland regularly and the feedback that we receive from these students does not go unnoticed. In fact, as soon as the students from Haine School returned to their classroom, letters of thanks were on their way to Inventionland! Here is a small snippet of the great, positive feedback we received!
"… The scenery was gorgeous and I learned LOTS of stuff. Everything inspired me to be creative and I think I might be an inventor after that trip." – Aidan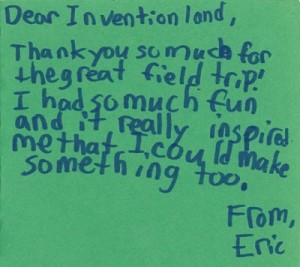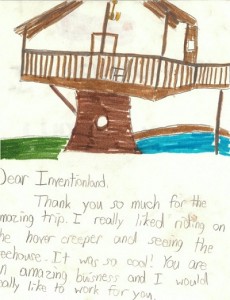 Also, this month, a group of homeschooled students and their parents closed their workbooks for a day and listened to our story as they toured our creative workspace!
The students and their parents enjoyed the tour so much that they also sent us a wonderful letter expressing their gratitude. In the letter, the homeschooled group wrote that when walking through our magic door, they felt like they were walking into Willy Wonka's Chocolate Factory! They also said that the story of Inventionland was a nice deviation from just going to "learn" what they had studied in books!
Finally, a corporate team from Giant Eagle made their way through Inventionland. These eager team members were excited to ditch their conventional offices for the day to enjoy something a little more creative, and we think it's safe to say that we don't lack in the creativity department!
From the reaction of the corporate team, we could tell that the inventive spirit was alive and well! They noted that they had a few expectations of what Inventionland was; but, those expectations were far-exceeded when the magic bookcase opened!
All in all, we are confident when we say that Inventionland tours are perfect for people of any age! And, with each tour, we find it inspiring to see our world through the eyes of others!
Copyright Davison 2014