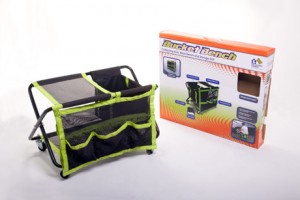 The Bucket Bench, which we created for Faucet Queen, has had its first production run, and 1,000 units are on a boat and on their way to the marketplace! We recently received the production approval sample from the factory; which was just about perfect.
"It looked fantastic," said the creative coach of special operations. "It looked exactly like our prototype."
The product is an addition to the Davison-designed Helping Hand line, bringing the total to 10 car cleaning items. It is designed to hold and keep all the
items while giving the user a convenient and comfortable place to sit while cleaning and detailing a vehicle.
The Bucket Bench will be for sale on Faucet Queen's website along with the rest of the line and will be available for orders. The product will be readied for a bigger launch into the marketplace by early next year. Congratulations to all who worked on this great new product!