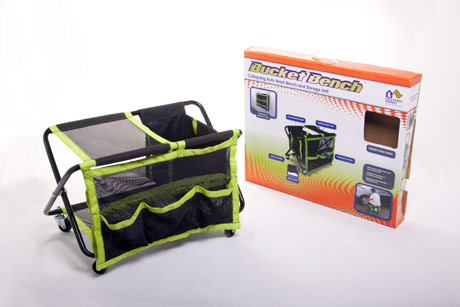 The Bucket Bench, which we created for Faucet Queen, has had its first production run, and 1,000 units are on a boat and on their way to market! We recently received the production approval sample from the factory; aside from some minor issues that were easily corrected, the sample was perfect.
"It looked fantastic," said the creative coach of special operations. "It looked exactly like our prototype."
The product is an addition to the Helping Hand line, bringing the total to 10 car cleaning items. It is designed to hold and keep all the items handy, while giving the user a convenient and comfortable place to sit while cleaning and detailing a vehicle.
The designer of the project was especially pleased and excited to see it turn out so well. Several people worked on the project to produce the engineering, graphic design, packaging, POP display, photography, and a lot of sewing.
"When all was said and done, our seamstress built three or four versions while working with the designer to refine the design," the coach said.
The product will be for sale on Faucet Queen's website along with the rest of the line and will be available for orders once FQ receives the units next month. We can't wait to see what great possibilities await this great new product. Congratulations to all who worked on it!