For Bubba Watson and for so many of us, the game of golf sometimes consists of navigating through sand traps, across water hazards and even through the woods.
Unfortunately for Watson, a conventional golf cart was not always helpful during his 18-hole adventures.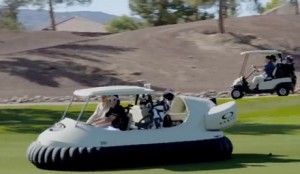 So, with some help from the Oakley company, Watson found a "better way" to cruise across the greens, sand traps, woods and water hazards that his golf game too often led him to.
"Golf carts have looked the same, they've been the same… but, let's have fun… who doesn't want to do that?" said Watson.
Using a hover craft principle, along with the roof, seat handles and other elements of existing golf carts, Watson created an improved cart that could hover above the geographical features of any golf course.
At Davison, we've used the same technology to assist auto mechanics in gliding under cars on less-than-even garage floors. Our award-winning Hover Creeper became the lowest ground-clearing creeper on the market; so, Watson may just be on to something!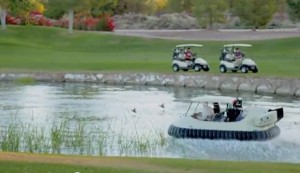 His first prototype, the BW1, promises a no-bump ride across fairways, greens, water hazards, sand traps and woods. In fact, the BW1′s footprint pressure is 33-times less than a human footprint!
Of course, like many inventors, Watson admits that the public was not always supportive of his game-changing invention.
"I see a lot of stares, a lot of laughs and then they see how efficient it is… I think it's going to really get more people involved. They're going to just want to drive the hover craft and not play golf…" said Watson.
Who wouldn't want to take the BW1 for a spin?
See Bubba's Hover in action:
Copyright Davison 2014
Sources:
http://www.youtube.com/watch?feature=player_embedded&v=z5u_2bGPdUY