Recently, The Washington Post named Pittsburgh on their "In" list, pushing previous "In" city, Portland, Oregon to the "Out" list.  Following the announcement, several online articles and blogs helped tell the world just what was so "IN" and exciting about the Steel City.
The article "Pittsburgh, PA.:  Entertainment Capital of the World?" gives an awesome glimpse at what makes Pittsburgh so special, even citing something we're all very, very close to!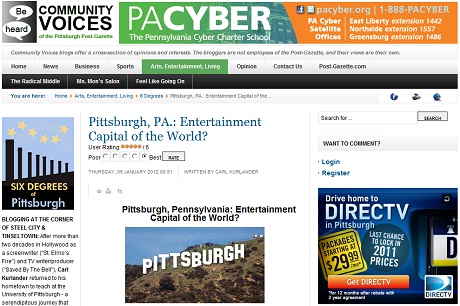 Calling the entertainment industry "Pittsburgh's new steel," the article references the filming of Batman's "The Dark Knight" and Tom Cruise's "One Shot."  Moving on to TV, the article gives a special shout out to the recent History Channel "Inventionland" reality TV show special.
"And Pittsburgh is even a force on the reality front… the History Channel just aired a pilot of Inventionland, a show based on George Davison's Willy-Wonka-esque inventor's shop here," the article said.
Click here to read the entire article and find out why next year's article may be "Hollywood, out – Pittsburgh, IN!"
In response to Inventionland's recent feature in the Wall Street Journal, the "Ridiculously Efficent" blog called Inventionland, "the epitome of a creative office!"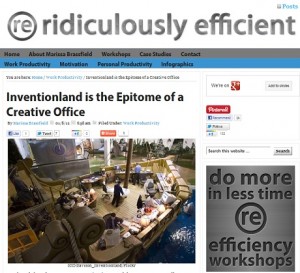 The "Ridiculously Efficient" article goes on to compliment the very nature of how business is done around Inventionland.
"With its high-volume output and whimsical atmosphere, Davison['s] Inventionland has clearly found an ideal (and profitable) blend of work and play," the article said.
Stay tuned for more exciting updates on Davison and Inventionland in the news!