We are so excited to announce that another Davison-designed baking product has made the pages of the Avon catalog!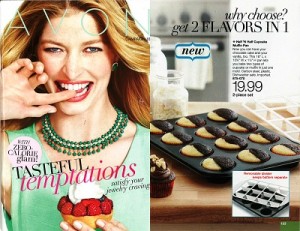 You can now find the Half N Half Cupcake Muffin Pan on page 133 of the Avon catalog or online at shop.avon.com. The world-wide direct seller features our innovative bakeware, saying "Now you can have your chocolate cake and your vanilla, too."
Of course, chocolate and vanilla are not the only flavors you can create with this great invention. The non-stick pan allows bakers to exercise their creativity, mixing and matching different-flavored batters into one "D-licious" cupcake or muffin!
The Half N Half Cupcake Muffin Pan is not the only Davison-designed bakeware that Avon has featured. Our client Jean's Meatball Baker adorned Avon's pages in January 2012.
That's right, our Better Way to Invent helped design these two great inventions and bring them to retailers everywhere!
So, the next time you are shopping online or reading through your Avon catalog, be sure to look for our innovative Half N Half Cupcake Muffin Pan or even another Davison-designed bakeware item!
Learn more about the Half N Half Cupcake Pan and other Davison-designed inventions on our online product pages!
Copyright Davison 2013