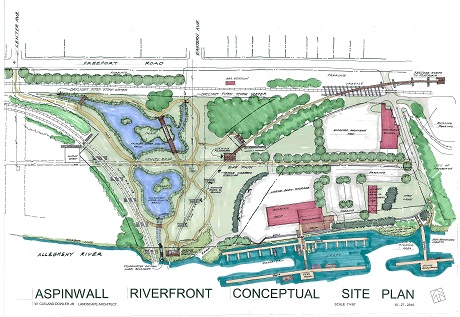 We've recently heard about an area community project that could use a shot in the arm – and fast!  There is an organized, grassroots campaign to acquire the Aspinwall Marina near Pittsburgh and turn it into a community park.
The campaign, referred to as The Aspinwall Riverfront Park Project, is working in coordination with Aspinwall Borough and Friends of the Riverfront to raise $2.3 million by September 30, 2011, in order to purchase the eight-acre lot, which would feature several trails, two retention ponds, plus the already working marina.
Not only is the effort near and dear to many community members, it is also a top priority for many members of the Davison team.  Mr. Davison has already made a generous donation and our Senior Director of Special Operations has been very active in the effort as well.
Our Senior Director of Special Operations serves as an Aspinwall Riverfront Park Project Steering Committee member and has helped to film and edit videos for the fundraising effort.  For him, the effort is even a bit more personal.
"I actively ride my bicycle and have a family with a three and four-year-old, so seeing the Aspinwall Riverfront Park become a reality is going to be great," he said.  "The Aspinwall Riverfront Park is a big project of which I have spent many hours working on, so I am eager to see it become a success."
And, the project is very close to becoming a reality.  As of the end of July, the group was just over $250,000 shy of the $2.3 million goal.  If they fall short of their goal, another group could buy the lot and develop it on their own.  This summer, it was nearly sold in order to become a 450-car parking lot.
According to our Senior Director of Special Operations, a park would a serve greater-community purpose than developing the space.
"Having a bicycle trail and riverfront access so close to home is going to be so beneficial to me and my family, and our community,"  he said.
To donate to the effort, you can visit either the Fox Chapel District Association or Friends of the Riverfront online.  Each site includes easy instructions to help you complete your donation.
You can also help by simply spreading the word!  Share the Aspinwall Riverfront Park Project website with family and friends, who may also want to help.
Finally, you can schedule a time to tour the property by contacting Project Coordinator Susan Crookston at [email protected].  Please keep in mind, for the time being, the park is still private property, so you are not able to visit the area on your own.
Learn more about the effort to acquire the Aspinwall Marina by visiting the Aspinwall Riverfront Park Project website today!