Davison has released another App into the Apple App Store! The Sweet 16 app is now available for iPhone users to download for free. Are you looking for more of a challenge when it comes to solving puzzles? This App will challenge your mind on an entirely different level. Similar to Sudoku, this App uses sixteen numerical digits to complete a math puzzle.
Offering users three different levels to choose from, The Sweet 16 App is sure to engage your mind like never before. Whether you want to brush up on your math skills by choosing the easy level, or you want to really challenge your mind by choosing the hard level, the Sweet 16 App is your platform!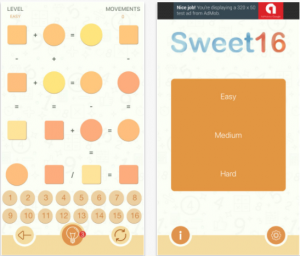 The creator of the App, an avid math enthusiast, was looking for a more rigorous challenge when it came to puzzles. He and his team worked on initial concepts of building the App but needed help getting it ready for the App Store, so he turned to Davison.
The Sweet 16 App is the 9th App we have put on the Apple App Store since we began offering App development services! It is always exciting for our team when a new App project comes in and even more exciting for the client when they see their App for the first time!
We asked this client "How did you feel when you first saw your App on the App store?" His response was, "The first time I saw Sweet 16 on the App Store, I was gratified…to see the interactive version available to the general public! I immediately posted about it on Facebook."
Responses like this always make our team happy! Knowing we helped a client fulfill his dream by turning it into reality evokes a feeling that resonates within us all.
For more Davison-developed Apps, or if you would like to download the Sweet 16 App, check out our Apps page!
Copyright Davison, 2017
The Inventor of the Sweet 16 App has not realized a net profit on the App.