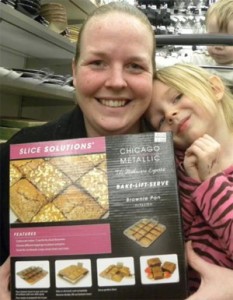 Cristin, from Sabattus, Maine, is the fifth winner in our "Find the 'D' and You Could Win Money" giveaway! She was very surprised to get the good news that she had won.
"That's awesome!" said Cristin. "I'm quite surprised, actually. I didn't expect to win." A client of Davison, she heard about the contest through her Director. "He's a very nice guy; he does a great job," Cristin said. "He's helped me out a lot."
The homemaker and mother of three will receive a gift card to Walmart. She plans to spend it on Christmas gifts for her children and husband, who is in the military.
"She's a great client," said her Director, who has been working with her for about a year. He told her about the contest several months ago, and like his other two clients who have won, Cristin and her family can really use the prize. "She finally got around to entering, and it's pretty exciting that it worked out for her," he said. "Every little bit helps."
They have had many good conversations about her idea for a new housewares product. She recently received her product portfolio and they had another enthusiastic discussion about the direction of her project.
"It's good to have somebody that continually has their idea on their mind — someone who is that passionate about her product and has a clear vision of what she wants to accomplish."
Congratulations, Cristin!