We recently added 15 new store links to our product pages, including 10 stores that are brand new to Davison! This brings the total number of stores that are selling or have sold Davison-designed products and packaging to 516!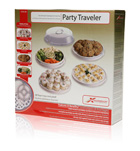 There are now 8 more stores selling the Dog Wash (for a total of 19), and all 8 are new stores for us! We also added 3 new links (1 new store) to the

Party on the Go; and a total of 4 new links (1 new store) for the Better Bobbin, Luma Threader and Ultimate Stiletto.


Check out all the additional stores now selling Davison-designed products, such as Improvements, which features "innovative problem solvers," including the Dog Wash, in its classy catalog — Sounds like a perfect fit for Davison, as well as for our inventor and corporate clients!