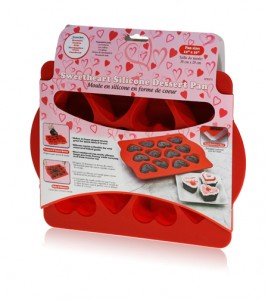 Valentine's Day is right around the corner and if you're still unsure of what to get that special person this year, look no further; we think we have an idea that your significant other will love!
Sometimes the simplest of gifts mean the most and the more time, effort and thought that goes into a present is often times more appreciated than a fancy dinner and box of chocolates.
So, if you are still searching for the perfect present to give that special someone in your life; at Davison, we think that our Sweetheart Silicone Dessert Pan will do the trick!
Even the most skilled baker knows that baking treats can be a very messy and frustrating task. Often times, when baking brownies, they can cook unevenly, which leads to a crumbled mess of brownies that are all different shapes and sizes.
Not to mention, the traditional metal pan can be hot to the touch for long periods of time after taking it out of the oven.
Plus, did we forget to mention that customizing those freshly-baked brownies can be difficult and time-consuming?
That's why the Davison-designed Sweetheart Silicone Dessert Pan is the perfect solution for your brownie-baking woes.
This Valentine's Day-themed product has created an easier way to bake heart-shaped brownies and other deliciously-sweet treats.
Like we said before, metal pans can take long-periods of time to cool. But, that's not the case for our silicone pan! Our pan is not only flexible; it remains cool to the touch.
Besides brownies, what else can be used to fill those 12 heart-shaped molds? How does cake batter, Rice Krispie treat mix or cookie dough sound?
Whichever filling your prefer, each piece will come out in a perfect heart shape that can easily be iced and decorated.
So, if you're still looking for the perfect gift for your significant other, bake your way into their heart this Valentine's Day with our Davison-designed Sweetheart Silicone Dessert Pan! After all, nothing says love like a heart-shaped dessert!
You can pick up the Sweetheart Silicone Dessert Pan at Amazon.com, Hobby Lobby, Montgomery Ward and other retailers!
Copyright Davison, 2015
These products are extensions of a previously developed product line for which the client has received a net profit. A typical project does not get a royalty agreement, sell in stores or generate a profit.