This morning, you probably walked to get a coffee, walked to the end of the driveway to pick up your newspaper or maybe even walked around your neighborhood for exercise. Although these sound like normal things that you probably don't even think twice about each day, these "mundane" tasks are things that Marcela Turnage and many others, who are paralyzed, wish that they could do.
But, with the help of one of the newest inventions in the medical field, known as the robotic exoskeleton, Marcela Turnage, 32, was able to get out of her wheelchair and take her first steps.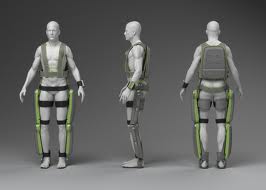 Now, thanks to the FDA-approved ReWalk Exoskeleton, a growing number of patients are beginning to regain their mobility.
This invention is a suit that is worn outside of clothing and helps move the users' legs in a natural gait while the person uses crutches for stability.
Dr. Peter Gorman, MD, Associate Professor of Neurology at the University of Maryland School of Medicine and Chief of the Division of Rehabilitation at the University of Maryland Rehabilitation & Orthopaedic Institute (UMROI), said, "I find this technology extremely exciting- and patients really love getting out of their wheelchairs and walking with this system."
Right now, the bionic suit is only available at about two dozen rehab facilities in the United States. The most obvious benefit of the ReWalk is that it helps paralyzed people walk again. However, additionally, the exoskeleton appears to improve their health by also improving digestion and bowel function, which can be adversely affected by years of sitting in a wheelchair.
There are currently two models available: the ReWalk Rehab 2.0, which is FDA-approved for use in clinical settings like rehab centers, and a personal version for home use. The latter of the two models is available in Europe and is waiting on FDA clearance in the United States.
Here is a quick video to show how this innovative invention can again change the lives of those whose lives were changed because of paralysis.
Copyright Davison 2014
Sources:
http://health.yahoo.net/experts/dayinhealth/paralyzed-mom-walks-again-robotic-exoskeleton
Media:
http://solidworks.co.kr/sw/news/4450_article2004_6_KOR_HTML.htm