Last week, we wrote a blog about some of the latest and greatest health inventions that can help you start and maintain a healthy lifestyle.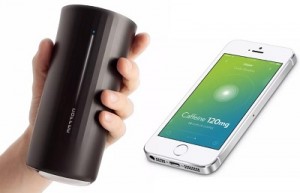 So, with the official start of summer beginning on Saturday, June 21, and bathing suit season on the horizon, we thought we would feature more health inventions that might help boost your efforts. Did you ever hear the saying, "Don't drink your calories?" Well, this new invention allows you to drink your calories, just in moderation!
A new startup by the name of Vessyl may be hitting the market with their sensor-enabled cup, also called Vessyl, that can perform a detailed analysis of the contents inside.
The way that this invention works is that the Vessyl is outfitted with an array of sensors that analyze what's inside of the cup by volume, nutritional information and beverage type. In fact, this innovative invention can even analyze the brand and flavor of the drink.
To use this invention, first, the user would pour a drink into the cup and lift it up. The cup's exterior would display the name of the beverage and its relevant nutritional information. Let's say for example, you pour a glass of orange juice into the Vessyl. The cup will then show you the calorie count as well as the sugar content of the orange juice.
Additionally, the Vessyl has its own mobile app, which can display your stats as well as contextual information. For instance, it will tell the user if they are getting close to their protein goal or their caffeine intake.
Since activity trackers are commonplace in this day and age, Justin Lee, the CEO and cofounder of Mark One, the company behind the invention of the Vessyl, notes, "We are in this next phase of what we can track to really make an impact on our physical health."
The Vessyl hopes to do just that, help people realize and be aware of the importance of the calories that they consume in their food and beverages.
The company is hoping to raise $50,000 to fund the first stages of production for this latest invention in the health industry. Once it's all said and done, this device will eventually retail for $200.
Here's a quick clip to get a better look at how the Vessyl will work!

Copyright Davison 2014
Sources:
http://mashable.com/2014/06/12/vessyl/
http://techcrunch.com/2014/06/12/the-vessyl-is-a-smart-cup-that-knows-your-body/
Media:
http://media1.s-nbcnews.com/i/newscms/2014_24/505591/vessyl_dd05e00b4ffc63a8ea06f347983b8d12.jpg