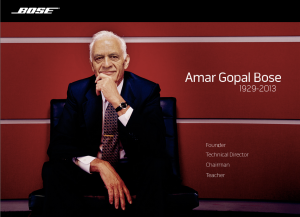 Amar Bose, the founder and chairman of the privately-held company, Bose Corporation, passed away on July 12, 2013. Dr. Bose focused relentlessly on acoustic engineering innovation, creating speakers that earned a reputation for creating concert-hall-quality audio in the home, car and auditoriums.
Amar Gopal Bose was born on November 2, 1929, in Philadelphia, Pennsylvania. His father, Noni Gopal Bose, was a Bengali freedom fighter who was studying physics at Calcutta University when he was arrested and imprisoned for his opposition to British rule in India. He escaped and fled to the United States in 1920, where he married an American schoolteacher.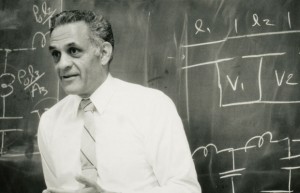 Bose first displayed his entrepreneurial skills and his interest in electronic innovation at the age of 13, when he enlisted friends as co-workers and began repairing radio sets and model trains for Philadelphia repair shops to earn pocket money. During World War II, his father's import business struggled. Bose's electronics repairs helped support the family, and after graduating high school, Bose enrolled at the Massachusetts Institute of Technology.
Graduating with a Bachelor of Science in Electrical Engineering in the early 1950s, Bose spent a year in Eindhoven, Netherlands, in the research labs at NV Philips Electronics; and a year as a Fulbright research student in New Delhi, India, where he met his future wife, whom he later divorced. He then completed his PhD in Electrical Engineering from M.I.T., writing a thesis on non-linear systems, under the supervision of Norbert Wiener and Yuk-Wing Lee.
Following graduation, Bose became an Assistant Professor at M.I.T.  While teaching, he bought a luxurious stereo speaker system, but was disappointed to find that the speakers, with extraordinary technical specifications, were unsuccessful in reproducing the realism of a live performance. This eventually motivated his extensive speaker technology research, focusing on key weaknesses, like the inability to reproduce the realism of a live performance, in the high-end speaker systems available at the time. He found that 80% of the sound received in a concert hall was indirect, which meant  that it bounced off walls and ceilings before reaching the audience. This realization, and the basic theories of physics, formed the foundation of his research.
In the early 1960s, his research led him to invent a stereo loudspeaker that would dominantly reflect the sound at the surrounding walls, rather than directly at the listener, in an attempt to recreate the concert hall experience.  This new type of stereo speaker was based on psychoacoustics, the study of sound perception. Bose's early patents won him great respect within the industry; but he needed capital in order to do further research and begin production. Then, in 1964, his mentor and advisor at M.I.T., Dr. Y. W. Lee, helped Bose financially found his company to pursue long-term research in acoustics. The Bose Corporation initially pursued military contracts, but Bose's dream was to produce a new generation of stereo speakers.

Though his first speakers fell short of expectations, Bose's pursuit never wavered. In 1968, he introduced the Bose 901 Direct/Reflecting speaker system (1971), which became a best seller for more than 25 years.  This invention rooted Bose as a frontrunner in a highly competitive audio components market. Unlike conventional loudspeakers, which radiated sound only forward, the 901's used the theory of psychoacoustics by blending reflected sound with direct sound.  This focus on psychoacoustics later became a trademark of his company's audio products.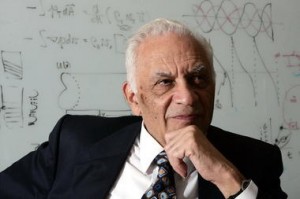 Bose was granted significant patents in many fields that continue to be important to the Bose Corporation: loud speaker design and non-linear, two-state modulated, Class-D, power processing. The Bose Corporation now produces products for users, homes, vehicles, and professional audio, as well as continues its ongoing research in acoustics and other fields. In a 2004 interview in Popular Science magazine, Bose said, "I would have been fired a hundred times at a company run by MBAs. But, I never went into business to make money. I went into business so that I could do interesting things that hadn't been done before."
In addition to running his company, Bose remained a professor at M.I.T. until 2001. In 2011, he donated a majority of the company's non-voting shares to M.I.T., on the condition that the shares are never to be sold.
Through all of his research and inventions, Dr. Bose's greatest innovation might have been combining technology with status. In doing so, his company became more than just a speaker maker, it became a brand name. Bose definitely left a thriving legacy, creating a successful name and earning over two dozen patents. Now, his name is synonymous with high-quality audio systems and speakers for homes, users, auditoriums and automobiles.
Copyright Davison 2013
Sources:
http://en.wikipedia.org/wiki/Amar_Bose
http://www.nytimes.com/2013/07/13/business/amar-g-bose-acoustic-engineer-and-inventor-dies-at-83.html?_r=0
http://web.mit.edu/invent/iow/bose.html
Images:
http://www.csmonitor.com/var/ezflow_site/storage/images/media/content/2013/12-07-2013-amar-bose.jpeg/16357113-1-eng-US/12-07-2013-amar-bose.jpeg_full_380.jpg
http://estima.files.wordpress.com/2013/07/screen-shot-2013-07-13-at-11-33-43-pm.png
http://cdn-static.cnet.co.uk/i/c/blg/cat/gadgets/amar-bose.jpg
http://2.bp.blogspot.com/-BQoLfT22JNk/Tg2hZ_kC4NI/AAAAAAAAASo/rs36cileqS4/s1600/bose_logo.jpg
https://bulk.resource.org/courts.gov/c/F2/467/467.F2d.304.71-2207.920.html