It may seem like a fairly new idea. But, the invention of the contact lens spans back much farther than you would think. In fact, contact lenses have been helping people see more clearly since the inception of this invention in 1887.
As you all may know, the contact lens is an artificial lens that is worn on the surface of the eye in order to correct refractive defects of vision.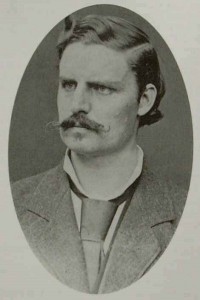 The invention of contact lenses came to be in 1887 when Adolf Fick developed the first pair, which were made of glass, to correct irregular astigmatism.
The early invention of the lenses was, as you could have guessed, uncomfortable and could not be worn for extended periods of time.
The earliest form of the contact lens invention was made by taking an impression of the eye and fashioning a lens on a mold. This practice was done before the development of optical instruments that could measure the curvature of the cornea, which is the transparent surface of the eye that covers the iris and the pupil.
Then, in 1889, a German glassblower by the name of F.A. Muller had an idea for the invention and found a better way to make a glass lens thinner and lighter.
In the mid-1900s, plastic-based contact lenses were introduced into the mix and were designed so that the lenses were more wearable. However, the lens continued to sit flat on the cornea that made it uncomfortable and did not provide the best vision correction.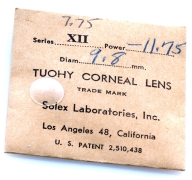 Inventions go through countless changes in order to iron out the kinks and, in 1948, California optician Kevin Tuohy began making contact lenses entirely out of plastic. These new, fully-plastic lenses were bigger than the cornea, yet smaller than the previous pair of lenses, which was a step in the right direction.
By the 1950s and 1960s, the invention got another boost when the lens was shaped more like the cornea and they became smaller and thinner. And, for the first time ever, the lenses could be worn all day, albeit, still they were an uncomfortable fit.
The new, soft lens became commercially available by 1971 in the United States and during the 1980s, the color-tinted contact lens was introduced as along with the disposable lens and the extended-wear lens.
What once started out as a glass lens that covered the entire eyeball turned into an invention that went through a myriad of changes. Since the invention idea hit the ground running, contact lenses have continued to help people correct refractive defects of vision. In fact, more than 100 million people around the world are getting a clearer look at life because of this invention.
Copyright Davison 2014
Sources:
http://www.britannica.com/EBchecked/topic/134628/contact-lens#ref937603
http://health.howstuffworks.com/wellness/cosmetic-treatments/contact-lens6.htm
Media:
http://www.andrewgasson.co.uk/images/opioneers_fick.JPG
http://www.college-optometrists.org/filemanager/root/site_assets/museum/contactlens/tuohy.jpg