There is nothing better than hanging at a picnic with family and friends during the 4th of July. Sunshine, food, drinks, friends, and bees. Wait, what? Bees? Yes, bees, even though no one invited them to the party, they are one sure thing that will bring your picnic to a screeching halt if you get stung. This is when inventor inspiration comes into play for our Davison inventor, Ziggy.
As Ziggy sat, enjoying a picnic on a beautiful summer day, his attention was pulled from a summer daydream, by bees! He watched as the bees and flies surrounded the open cans of soda on the picnic table in front of him. He sat anxiously watching as the bees crawled in and out of the open soda cans, warning others as they went to take a sip. This got Ziggy thinking, anyone could walk up, grab their soda thinking they are going to quench their thirst but instead they are stung by a bee! As Ziggy continued to watch the bees he ultimately thought "there must be a better way."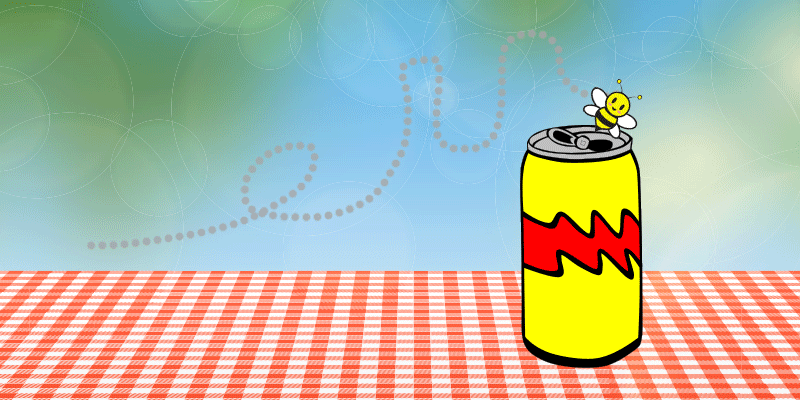 On that bright sunny day, at a picnic with his friends, Ziggy thought "I can fix this everyday problem"…. And the Can Pump and Pour, Fizz Keeper was born.
When Ziggy first brought his idea to Davison, we applied the Davison Inventing Method. We enhanced his idea, not only would his product seal open soda cans, but it would also keep the fizz in the soda for up to a week! We then presented it to a company that decided to include it in its product line. We successfully negotiated a license agreement and the company agreed to pay him a royalty on each unit sold for the life of the product. His invention has sold millions of units and he has made a profit on it. His invention comes in Mountain Dew, Pepsi, and regular packaging. It has sold in Walmart, Bed Bath & Beyond and numerous other big box stores.
This 4th of July while you're spending time with friends at picnics or pools or maybe you're just having some barbecue at home, think of Ziggy and the summertime problem that he suddenly solved. Remember inspiration can come anytime and from anywhere! B-E-E Inspired!
---
BUY THIS PRODUCT! Interested in purchasing Ziggy's invention? Head over to our 4th of July product page.
---
DO YOU HAVE A SUMMER INVENTION IDEA? Submit it here.
---