Before we begin 2015 and embark on our company's 26th year in the inventing industry, it only seems fitting that we pay final tribute to the year that marked our quarter of a century in the business – among several other incredible milestones!
So, 2014… here's to you and the way that you saw our company grow and soar to new heights!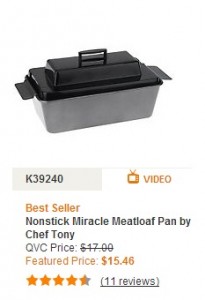 January: We started 2014 off in a BIG way, soaring to over 9,000 likes on our Facebook page and introducing Chef Tony's Miracle Stuffed Meatloaf Pan on QVC for the first time! The pan that creates multiple meal options for meatloaf sold out in less than 10 minutes! Could there be a "Better Way" to start off the new year? We don't think so!
February: Our on-going success at QVC continues when we receive word that the Half N Half Cupcake Pan is slated to be featured on the network's "Kitchen Unlimited with Carolyn." During the appearance, host Carolyn Gracie calls the pan that combines two tasteful cupcake flavors into one a "fun twist on an old favorite."
March: For the third month in a row, we see products that we've designed at Inventionland soar to success on QVC! This time, is it the Jade No-Burn Pan that Culinary Professional Chef Tony Notaro shows off on QVC's "In the Kitchen with David." Also, in March, representatives from our Licensing Department show off new products at two of the nation's largest trade shows, Global Pet Expo in Orlando and the International Home + Housewares Show in Chicago.

April: Following great success at Chicago's International Home + Houseware's Show in March, a New York Times' writer recognizes the Clip & Drain that we designed at Inventionland as a simple and convenient addition to his kitchen. Also, in April, we continue to inspire the inventors of tomorrow at Inventionland, when we hosted WQED's "Design Lives Here Invention Convention," which welcomed over 200 Pittsburgh-area students to our creative design facility for a day full of inventing fun and competition.
May: We celebrated a big month of product movement in May. Joining the list of over 1,200 retailers that have sold Davison products, Shopko begins to feature our products and packaging solutions. Simultaneously, we secure two more licensing agreements when the Jokari corporation licenses the Hanger Pockets and Hanger Links that we designed at Inventionland.
June: It's bbaaaccckkk! Chef Tony Notaro showcases the Miracle Meatloaf Pan on QVC's "In the Kitchen with David" for a second time this year! This time, we savor the success of selling over 7,000 units! This month is also a huge month for our founder and CEO George Davison in the community when he chairs Pittsburgh's 59th Annual CLO Guild Ball alongside his mother and oldest daughter, Morgan. Davison also sponsors The Challenge Program at a Pittsburgh-area high school where five students receive financial recognition for their year-round academic achievements.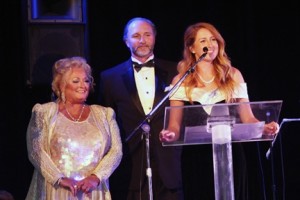 July: Our creative design facility receives some major world-wide attention and interest when it is featured on the hit Arabic TV show, "Khawatir." Almost instantly, the episode soars to over 1 million views on YouTube.
August: Coupaw.com features deep discounts on two pet products that we designed at Inventionland as part of the "limited-time deals" on their website. The site, which showcases "some of the best pet services and retailers" they can find, features the Whack-a-Mouse cat toy and Sticks Throwing Dog Treats. A current client takes her invention story to an NBC news affiliate in Florida, telling reporters about how we are developing her potentially life-saving car alarm system idea.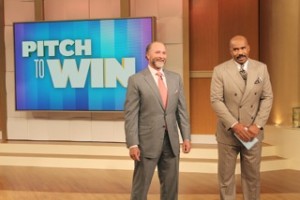 September: Our founder and CEO makes great waves locally and nationally this month. George Davison appears during season three's premiere week on the Emmy-award winning Steve Harvey show. He helps judge Harvey's "Pitch to Win" contest and presents the winner with a $10,000 check from Inventionland! At home in Pittsburgh, we learn that a community trail system project that Mr. Davison proposed is about to get underway!
October: We're back on QVC again! This time, the Mrs. Fields Fill N Flip Locking Layer Pan is featured on QVC's "Gifts for the Cook" where the hosts demonstrate the pan's many capabilities. At the same time, one of our clients from Texas, who invented Hanger Pockets, an organizational tool for the closet, is featured in "Tex Appeal" magazine!
November: It's a big month for cooking and baking products that we designed at Inventionland. Rave reviews pour in following the Mrs. Fields Fill N Flip Locking Layer Pan appearance on QVC. Plus, mommy blogger "Mama Smith" tests out a few other baking products that were licensed by Love Cooking Company. She tells readers they are "products you cannot live without!"
December: Rotary International recognizes founder and CEO Mr. Davison as a Paul Harris Fellow for his "tangible and significant assistance given for the furtherance of better understanding and friendly relations among peoples of the world." We also open the doors of Inventionland to help Tickets for Kids Charities mark their 20-year anniversary with an "Imagine Nation Ungala."
And, those are just some of the moments that made 2014 so great. Read more about what an incredible year 2014 was here.
Copyright Davison, 2014