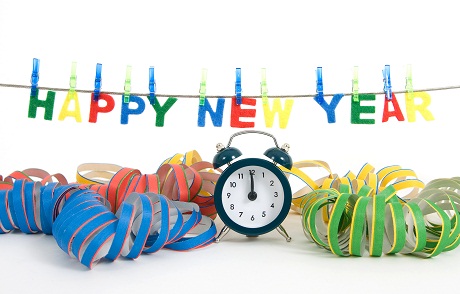 "Should old acquaintance be forgot and… "  Ok, so, we may not know all the words to Auld Lang Syne, but we are more than ready to ring in the new year with some great memories from 2012.  And, when it comes down to it, we are pretty sure that's what the song means!
Although there were many, many great things that happened this year, our post simply would be WAY too long if we included them all, so here are just a few highlights from each month.
January: The late celebrity icon known for hosting a "rockin" New Year's Eve reviews the History Channel's "Inventionland" reality TV special. "I found it fun to watch and most interesting and, undoubtedly, will be a successful History Channel venture," says Dick Clark.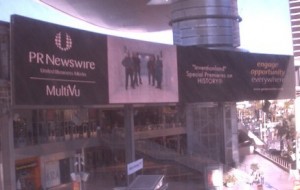 Also after the History Channel's "Inventionland" reality TV show special, which was promoted high above the strip in Las Vegas and in NYC's Times Square, our creative workspace also appears in the Wall Street Journal!
February: We launch our innovative "Dare to Invent" webisode series! The 13-episode series showcases our clients and their inventions, from product inception to licensing… and beyond!  The series begins with Joy, inventor of the Party on the Go, and Kay, inventor of Pugz Shoes.  The webisodes can be found at Davison.com and on YouTube.
We go international twice! Inventionland is featured on the the German TV show "Galileo" and the Davison-designed Hydro Family (which was licensed by Hugs Pet Products) is set to sell in the United Kingdom and Canada.
March: Walmart runs an "Idol-style" competition online called "Get on the Shelf" and Hugs Pet Products, a company that has licensed many of our designs, enters several of Davison-designed pet products in the contest!
The TheraPED, a spa-therapy product that we designed for our client, Lennell, continues to receive rave reviews from Zumba and yoga instructors across the nation.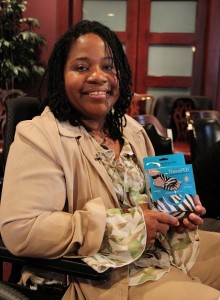 April: We present our TheraPED inventor, Lennell, with her very first royalty check at a surprise party for her family and friends in her hometown, St. Louis! Mr. Davison and our production crew get some great photos and video footage under the city's famous Arch for an upcoming "Dare to Invent" episode!
Speaking of "Dare to Invent," the webisodes continue!  This month, we feature John, inventor of the BikeBoard, and Jean, inventor of the Meatball Baker!
May: Davison is nominated for a Small Business Community Association (SBCA) 2012 Best of Business Award for Pittsburgh! According to the SBCA, the Best of Business Awards are designed to empower and recognize businesses that make a difference in their communities.
Continuing a school tradition, George Davison speaks to students at his high school alma mater, The Kiski School, in Saltsburg, Pa.  The day-long event includes three sessions, where Mr. Davison enlightens young minds on what it is like to be an entrepreneur.
June: In what becomes the first of many appearances in 2012, George Davison is featured on

Lifetime's "The Balancing Act," America's premier one-hour women's morning show dedicated to creating trusted solutions for today's woman. Mr. Davison joins host Danielle Knox to field questions both before and after Lifetime airs Joy Clymer's (Party on the Go) episode of "Dare to Invent."
Fox Business Network cameras join George Davison at Inventionland, where we get a sneak peek inside Davy's Treehouse. "Inventionland is like a big playground for creative people," George tells Lauren Simonetti. "We try to keep everybody in a state of mind that is real creative and real positive, because the world of inventing can be a crazy up-and-down world. It's a state of mind."
July: "Dare to Invent" airs the final episodes of the webisode series. The first features Christine Walker, inventor of the Brownie Bowl and our 1st season final episode treats viewers to Gary and Ruth Frazer, inventors of the Twister Bolts and Twister Caps.
We proudly announce that the TheraPED will be included in 200 VIP gift bags given out during the 13th Annual BNP Paribas Taste of Tennis (Aug. 23, 2012). As part of the 2012 U.S. Open festivities held in New York City, The Taste of Tennis combines NYC's top chefs and the world's greatest tennis players to showcase their culinary skills for the benefit of New York Junior Tennis League.
August: Davison products burn up the blogosphere. TheraPED once again earns rave reviews from the One Bored Mommy blog; 6-in-1 Manicure Multitool has "got everything you want," according to a Hello Dollface blogger; The Clip & Drain replaces colanders for the writer of Sugar Pop Ribbons; The Neat Things in Life blog gets cooking with the Silicone Dog Treat Pan; and AWAY is celebrated by holistic health guru The Savvy Sister.
Davison is featured in an article in the summer edition of Soul Pitt Quarterly, Pittsburgh's Premier Minority A&E Magazine.  In the piece, Soul Pitt's writer (Mimi Gray) speaks with CEO and Founder George Davison, President Frank Vescio, Senior Director of New Products Steve Smith and Director of New Products Hassan Walker and picks their brains about what it takes to be an inventor and to work at Davison.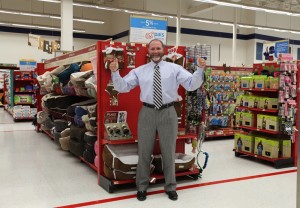 September: A defining moment in company history, the entire fall 2012 Hugs Pet Products Pugz line arrives at Petco!  The line, which we helped design, includes leashes, beds, coats, leg warmers, harnesses and boots; and it's prominently displayed on Petco's end caps.
We expand our social media presence, launching Pinterest and Google+ pages.  Pinterest allows us to share all things inventing on our pinboard and Google+ allows us to chat with our followers in circles or groups, so we can better meet their inventing needs.
October: Mr. Davison's Lifetime TV appearances continue as he and Jean Rindfuss (as part of her Dare to Invent episode) appear on "The Balancing Act." Before showing the appetizing webisode, Mr. Davison discusses Davison's Better Way to Invent and how it worked for Jean Rindfuss and her Meatball Baker.
Davison's Hydro Bone is featured in Real Simple Magazine as part of their "40 Most-Pinned Problem Solving Products" list. Of the hydrating chew toy, the Hydro Bone, the magazine said, "If you're hitting the park with Fido, be sure to pack the proper warm-weather essentials. Simply soak this rubber bone in water and toss it to your four-legged friend, so he'll stay well "hydrated all day long."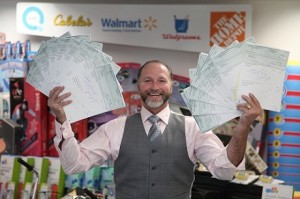 November: In time for the holiday season, Mr. Davison illustrates how Davison's Better Way to Invent works for everyday people with ideas.  He signs, seals and delivers big news and royalty checks to Davison inventors from all over the country and even England.
Our Licensing Team attends Atlantic City's Non-Foods Marketing Expo, a trade show that caters to retailers interested in general merchandise and seasonal items that one may find at a grocery or drug store. Among over 150 vendors, past licensees of Davison products, Hugs Pet Products and AWAY Bug Repellent, showcase several Davison designs. Quickly heading to the west coast, the Licensing Team also makes a stop at the SEMA and AAPEX shows, where Davison car-cleaning products shine!
December: Ending 2012 with a bang, Mr. Davison makes a few more appearances on Lifetime TV's "The Balancing Act."  This time, he brings along our clients, Christine – Brownie Bowl Inventor and Gary and Ruth – Twister Caps and Twister Bolts inventors, as part of their "Dare to Invent" webisodes.
The Keystone Edge, an online publication that covers the entrepreneurial ecosystem that drives Pennsylvania forward, features Mr. Davison in their "Founders" section.  Comparing him to Henry Ford, deeming the title "a praise that should not be viewed lightly," Keystone Edge also calls Mr. Davison "one heckuva entrepreneur."
Thank you for everything, 2012!  We can't wait to see what 2013 has in store!!
Happy New Year!