The first thing that you notice about a product is the packaging. After all, that is what makes the initial impression.
Some companies stick with a more traditional route with their packaging; however, there are those companies out there that put just as much time into their packaging as they do into their product.
Let's take a look at some of the most creative packaging designs that we've come across in our research!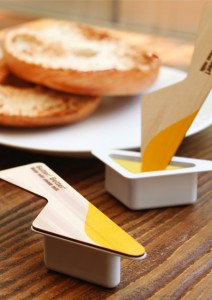 Butter! Better! – Step aside butter packets, there's a new package design in town. Butter! Better! offers a new idea for the packaging of butter by inventing a convenient, single-serve package. Most single serves are used on a daily basis, whether at a coffee shop, during travel or at a picnic to name a few places. Unlike most butter packets, this invention includes a wooden spoon lid that is used to spread the butter without having to carry additional cutlery.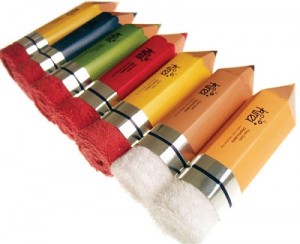 Kirei Towel- It may look like a pencil, but the sole purpose of this towel is to clean! The Kirei Towel's packaging design is meant to look like a pencil, with the towel acting as the "eraser."  The idea behind this packaging design is to illustrate the strength of the towel by correlating it to the strength of a pencil eraser.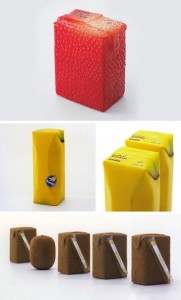 Fruit Juice- This creative and innovative product package design will never leave you questioning what flavor juice you are about to enjoy. This creative invention came from the mind of Japanese industrial designer Naoto Fukasawa. The fruit juice packages were designed to have the look and feel of the fruit that they contain.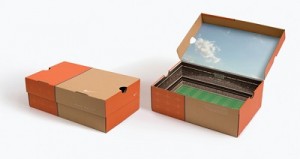 Nike Shoe Box Stadium- Not only does Nike design insanely creative and innovative merchandise, they upped their game when they invented their Stadium shoe box packaging design. Nike has long been a huge supporter of soccer; so, what better way to show their support than to design the 2007 Cannes Lion-winning Stadium shoe box. There were only a limited amount of these shoe boxes that were designed to look like a stadium with an image of a stadium and an embedded sound chip. When the box was opened you could hear the crowd cheering. Now, that is some creative packaging design!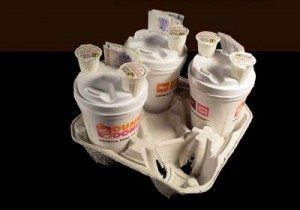 Coffee Top Caddie- We have all been there before. It's a few minutes before you have to clock into work and you finally get your cup of coffee. But, you have no time to add your sugar or cream in the coffee shop; so, you grab a handful of sugar packets and creamers and head out the door. Now, you have coffee in one hand and your sugar and cream in the other hand. Good luck trying to open the door to your office. So, that's why designer Joshua Harris found a better way to carry your morning coffee, with the invention of the "Coffee Top Caddie." In essence, this package design is a plastic top that fits on top of your to-go coffee cup and allows you to securely carry your sugar packets and creamers in one hand!
Although the age-old saying says that you "can't judge a book by its cover," we think that we can be the judge of these products and come to the verdict that these creative and inventive packaging designs are pretty cool!
Copyright Davison 2014
Sources:
http://www.yankodesign.com/2010/10/29/four-flavored-butter-spoon/
http://www.packagingserved.com/gallery/Kirei-Towel-Packaging-Design/601063
http://www.toxel.com/inspiration/2009/03/29/juice-skin-packaging-by-naoto-fukasawa/
http://www.thecoolhunter.net/article/detail/1759/nike-stadium–new-york
http://www.yankodesign.com/2009/04/06/you-been-dunkin-long-nice-cap/ \574
Images:
http://www.yankodesign.com/images/design_news/2010/10/28/butter_better7.jpg
http://www.trendhunter.com/trends/kirei-towel-packaging
http://25.media.tumblr.com/SqHZoTWKZltg5d98vsbgXKnyo1_500.jpg
http://www.thecoolhunter.com.au/images/nikebox.jpg
http://file.trendhunter.com/thumbs/coffee-top-caddie.jpeg