Stitch together good times in New York City!
Where would America be without the sewing machine and New York City's marketing machine? It's hard to imagine our industrial progress in textiles without envisioning black and white film footage of well-coifed women seated in rows upon rows turning out well-crafted clothing behind sewing machines. Such images allude to an America buzzing with city commerce. Isaac Singer was the perfect marriage of textile ingenuity and big-city commercialization.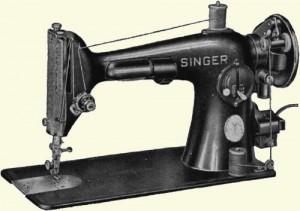 Although many other sewing machines existed in the late 1890s, Singer was the most successful at marketing his, due to his machines practicality for home use and its installment basis payment plan. Celebrate the man and city that gave America the sewing machine by taking a trip to New York City.
There's a lot to do and see in New York, but the best thing to do is eat. New York is a city of homemade fast food. Stop by almost any deli or pizzeria and you will be treated to some of the best bagels and pizza in the country. The worst bagel in New York is still better than the best bagel anywhere else, so a good one is not hard to find. There's not one specific place to get bagels and pizza, but they're available on almost every block. Some notable locations for pizza include Grimaldi's in Brooklyn and Lombardi's in Lower Manhattan. Another popular eatery is Shake Shack, which serves delicious burgers, fries and shakes at a handful of locations around the city — Madison Square Park and The Upper West and East sides.
After you've carbed up, it's time to see some of the finest museums in the world. Start at the Museum of Modern art in midtown, which you can get through relatively quickly as compared to the Metropolitan Museum of art, the Whitney and the Guggenheim. Make sure to make a stop by the American Museum of Natural History.
No trip to New York would be complete without seeing the tourist destinations. The Statue of Liberty, Empire State Building and Central Park are all exciting locations, no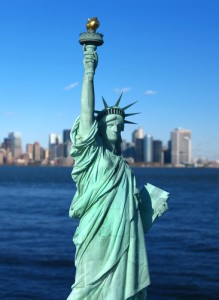 matter how many times you've seen them. Unless you are hell bent on standing on Liberty island, you can save yourself the price of The Statue of Liberty tour ticket by getting on the Staten Island Ferry for free. The views are just as good. The Empire State building offers trips to the top for about 15 dollars, but the waiting line can be long and the visibility from the top varies, so pick your times carefully. You can't miss with any locations in Central Park, but the best place to start is the southeast corner. From there you have access to the Plaza Hotel, FAO Schwarz and the picturesque Central Park pond.
You can't do any wrong in New York City. Every inch of it offers a piece of American history that can be stitched into a great trip without having to use one of Singer's machines.
Images:
http://gotoes.org/sales/SingerSewingMachineManuals/index.pl