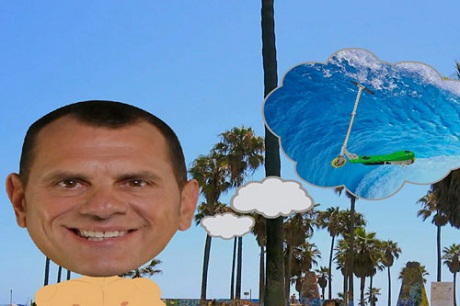 Tonight, again, we beg the question, do you… "Dare to Invent?" when we feature the fifth in our 13-episode "Dare to Invent" series on YouTube and at Davison.com.  This week's webisode is live now and features John Iavarone, inventor of the BikeBoard.
In tonight's episode, the California native faces an "X-treme" problem:  Trying to ride a conventional scooter, enjoying the ride, then being jolted off by uneven pavement or stray twigs.  Worse yet, John has to watch in horror as his kids do the same thing!
He wants a safer, sturdier scooter that is more unique and maneuverable; so, he takes matters into his own hands and brings his idea for a "west-coast" scooter, which combines surfboarding, skateboarding and biking… to Davison!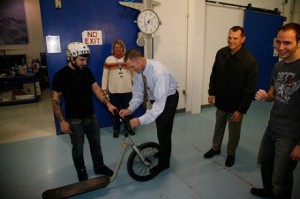 Nathan leads the creative team and, with a little help from fellow creationeer (and, often, test-dummy), Clay, they overcome all obstacles and the BikeBoard proves to be a rolling success!
John's invention also reaches another exciting milestone when an international giant features the BikeBoard on some of their "cheesiest" packaging!
"This is an entrepreneur's dream, to have a company like this to work with," says John. "This has been a great relationship."
Tune in NOW to watch John "Dare to Invent" and see all the twists and turns the BikeBoard takes as it goes from idea to reality!
Here is a sneak peek of some photos from this week's "Dare to Invent" webisode:
A typical project does not get a royalty agreement, sell in stores or generate a profit.