Thanks to the creativity and innovative spirit of Charles Foley, the co-inventor of Twister, who passed away earlier this month, millions of people have had the curse and delight of attempting to contort themselves into awkward and uncomfortable positions while playing the sometimes controversial board game. With the slogan "The Game That Ties You Up in Knots," Twister was the first game to use humans as board pieces.
Reyn Guyer, Reynolds Guyer House of Design's chief executive officer, said that he designed a game called King's Footsie — a Twister-esque game that was originally intended as a promotion for children's shoe polish. He pitched the idea to 3M, but the company declined.
Charles Foley and Neil Rabens were then hired to refine the concept. Rabens said that he initially devised a game called Pretzel, in which people made "goofy moves" on a grid, but did not intertwine. Foley, whom Rabens described as the "idea man," altered the concept to create the Twister we all know today.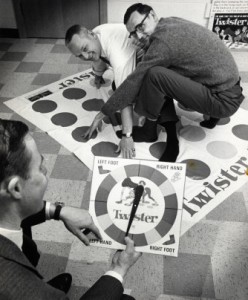 Twister co-inventors Charles Foley (left) and Neil Rabens (right)
It encompassed Foley's four requisites for a participatory game, needing a bit of skill and a bit of chance, allowing you to stick it to an opponent and being entertaining to watch. The game was licensed to Milton Bradley, who took Twister to Sears, the largest toy seller at the time.  Twister immediately drew criticism from some who called it "sex in a box." Deeming the game too risky and too risqué, Milton Bradley decided to pull the game right before Christmas.
However, the company had already engaged a public relations firm that had landed Twister on "The Tonight Show."  The game quickly became a sensation after Johnny Carson and Eva Gabor played. Gabor appeared moral in her blonde up-do and modest in a white dress, giving the game more innocence.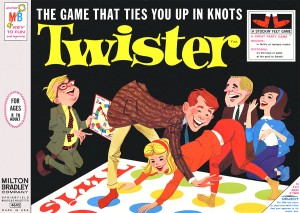 Twister became a top seller and brought Foley a level of fame. The patent was issued to him and Rabens for the apparatus for playing a game wherein the players constitute the game pieces.
"What makes the Twister game timeless is the fact that it's always been about showing off your free spirit and just having some laugh-out-loud, out-of-your-seat fun," said a spokesman from game-maker Hasbro, Inc. "The game's popularity continues today as young fans still have fun getting tied up in knots."
Although Twister was the most popular of his 97 patented inventions, co-inventor of the game Charles "Chuck" Foley had been inventing all of his life and had many innovative inventions. On July 1, 2013, at the age of 82, Foley passed away from Alzheimer's disease complications.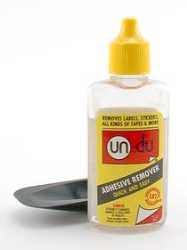 Foley had started inventing at an early age and when he was 9, he invented a locking system for his grandfather's farm, to keep the cattle from escaping the pen. As a young man, he worked as a salesman, served in the Michigan Air National Guard and worked on the assembly line at the Ford Motor Company, before taking a job at Lakeside Toys in Minneapolis. Over the years, Foley invented dozens of other toys and games, such as designs for plastic toy handcuffs and safety-tipped darts. He also invented a product called un-du, a liquid adhesive remover. Un-Du was named "Best New Product of the Year" in the 1993 School Home Office Products show in Chicago.
"He was extremely passionate about what he did," said his son, Mark. "He had great vision. His motto was 'I want to invent something that should be in every home and every commercial environment imaginable.' "
Thanks to creative and innovative people like Foley, we are able to enjoy embarrassing ourselves in the fun that Twister provokes—if only we could all live like Mark said his father did:
"He never stopped having fun. He tried to think like young people thought. He never wanted to grow up, and he always maintained his enthusiasm for seeing things through the eyes of a child."
Copyright Davison 2013
Sources:
http://m.apnews.com/ap/db_289563/contentdetail.htm?contentguid=Bng68x9h
http://www.startribune.com/lifestyle/214841111.html
http://articles.washingtonpost.com/2013-07-11/entertainment/40512481_1_reyn-guyer-mark-foley-charles-f
Images:
http://s3.amazonaws.com/cooltools_legacy/archives/undu_web.jpg
http://en.wikipedia.org/wiki/Twister_(game)
http://articles.washingtonpost.com/2013-07-11/entertainment/40512481_1_reyn-guyer-mark-foley-charles-f