With the opening events of the 2014 Winter Olympics in Sochi on Friday, February 7, we thought it would be a great idea to talk about some of the innovative inventions that will be displayed at this year's games.
The Winter Games are full of adrenaline-pumping sports like bobsledding, freestyle skiing, snowboarding and curling (OK, maybe it's not adrenaline pumping, but, it's still fun to watch). Of course, there are many more events that are included in the Winter Olympics; but, we wanted to focus this blog on some new technology that will be infused into the hockey competition this year.
There are people all over the world that idolize their favorite professional hockey player and might even correlate them to a super hero. Well, during the 2014 Winter Olympics, select Olympic hockey players will be dressing the part of a super hero when they dawn state-of-the-art, 3D- scanned uniforms that are custom-fitted to their body parts.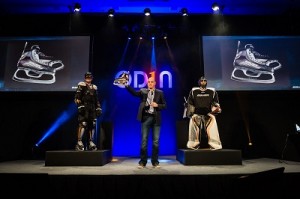 Bauer, a hockey equipment manufacturer officially unveiled their new line of high-tech hockey equipment in December that's called "Od1n." The CEO of Bauer has called the gear the "concept car" of hockey equipment.
Hockey fans everywhere will be able to see the new gear in action at the Sochi Winter Games, because it will be worn by the NHL's Patrick Kane (Chicago Blackhawks/Team USA), Jonathan Toews (Chicago Blackhawks/Team Canada), Nicklas Backstrom (Washington Capitals/Team Sweden), and goaltender Henrik Lundqvist (New York Rangers/Team Sweden).  Additionally, Alex Ovechkin (Washington Capitals/ Team Russia) and Claude Giroux (Philadelphia Flyers/Team Canada) are included in the group of six players, who worked hand-in-hand with Bauer in order to test the equipment.
A focal point of this innovative invention is the weight reduction of the equipment that should provide a significant on-ice advantage. Lundqvist will replace his traditional synthetic leather that is equipped with compression-molded foam that can be modified depending on the goalie's style of play for the Od1n goalie pads that are much lighter. Even the skates are lighter, because of the carbon-composite blade holders that equal about 1,000 fewer pounds of lifted weight during a regulation game.
As is with any invention, designs are at the heart of these new technologies. By using the up-and-coming invention of 3D optical scanning, which is a technology that was borrowed from the automotive industry, Bauer was able to create protective base-layers suits that are molded to each player's physique. The scans generated computerized models that were then used to create the custom equipment.
So, what's the sticker price for this invention? The answer: a cool one million dollars.
Here are a few quick videos to give you a sneak peek at just how innovative this equipment really is!
Whether or not this new super hero-esque hockey equipment will hit the mass market is still up in the air; but, hockey fans everywhere can marvel at Bauer's latest invention as they tune in to some quality competition during the 2014 Winter Olympics at Sochi.
Copyright Davison 2014
Sources:
http://mashable.com/2014/01/29/sochi-hockey-equipment/
Media:
http://www.youtube.com/watch?v=C2ZAkAAYZ2M
http://www.youtube.com/watch?v=q7Nx_b_i_f8
http://www.youtube.com/watch?v=2D-XUsEN_N8
http://www.newswire.ca/en/story/1283077/bauer-hockey-unveils-the-future-of-hockey-equipment