George Davison (Founder & CEO of Davison) and the inventor of the Better Tether Ed Yoder (as part of his Dare to Invent episode) will be featured on the next episode of Lifetime's "The Balancing Act," America's premier one-hour women's morning show dedicated to creating trusted solutions for today's woman.
Mr. D and host Kristy Villa (Friday, August 17, 2012 at 7:00 a.m.) will talk about the Davison Inventing method and the Better Tether before and after the airing of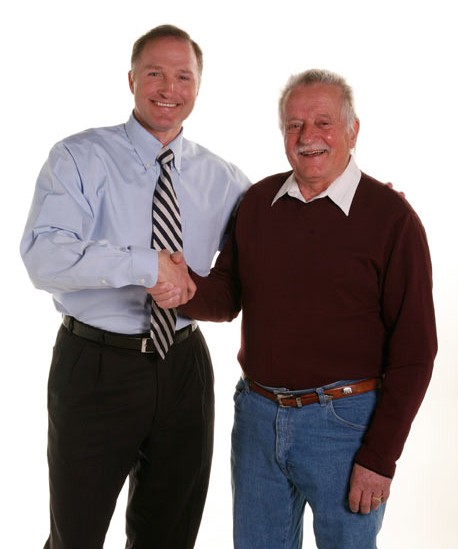 Ed's episode of "Dare to Invent" – the webisode series that explores what can happen when everyday people work with Davison to make their invention ideas a reality.
Ed desired a more convenient and humane way to tether his dog outdoors! He got tired of his precious pup's chain knocking over the food and water bowl while the pet was tethered in the yard… not to mention, the dish and the chain were often in the way of the lawnmower! Ed brought his idea for a "better" tethering device to Davison.
Unlike traditional tethers that wrap around trees or unwieldy stakes, Ed's tether is secured to the ground, eliminating an obstacle to pets, humans and machines. The divided food and water bowl can never be tipped over and the entire unit sits lower than the blades of a lawnmower and never has to be moved.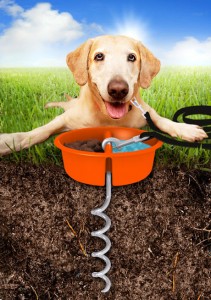 A leash can be attached directly to the strong steel post, and the vivid orange color makes the bowl highly visible.
Congratulations to Mr. Davison, Ed and the Davison Creationeers for getting the chance to showcase the Dare to Invent – Better Tether episode to a national audience!
More Dare to Invent episodes and Mr. Davison will be featured on "The Balancing Act" throughout 2012. We will keep you updated on dates and times as they become available.
Lifetime Network's "The Balancing Act" treats viewers to the most current and hot topics, while featuring some of the hottest celebs from the sports and entertainment industry.
___________

PLUS – You Could Win a Better Tether for your pooch on the Davison Facebook page!*
We will be giving away one Better Tether — a better and more humane method of tethering a dog outdoors — to celebrate the airing of the "Balancing Act" episode, featuring George Davison talking about the development of this versatile product.
The giveaway will be held from Friday, Aug. 17 to Friday, Aug. 24. Contestants will be entered to win a Better Tether when they "Like" the Davison Facebook page and complete the information on the entry form/giveaway page.
*This promotion is in no way sponsored, endorsed or administered by, or associated with, Facebook.
Davison's research, development and presentation services are provided for an upfront fee paid by the client and a contingent fee (which is a percentage of royalties obtained by the client, if any). New product development is an uncertain endeavor and the use of Davison's services typically does not result in a license agreement, sales on any market or profit to the inventor. Davison does not perform analysis of the feasibility, marketability, patentability or profitability of ideas submitted to it.
Sponsor: Davison
Term: The Davison BETTER TETHER Giveaway begins on August 17, 2012 at 12:00 noon EST and ends on August  24, 2012 at 12:00 noon EST.
To Enter: No purchase necessary to enter or win the Sweepstakes. A purchase will not improve your chance of winning. Register to win by liking the Davison Facebook Page and completing the information on the giveaway page. The employees of Davison and members of their respective immediate families are not eligible to enter this giveaway. By entering this giveaway, you are also opting-in to receive informational and promotional emails from Davison.
Prizes: Sponsor will giveaway one(1) better tether, valued at $25. No more than one prize will be awarded.
Winner Selection: Potential winner will be selected in a random drawing from among all eligible entries received by August  24, 2012 noon EST. Odds of winning are dependent upon the number of eligible entries received.