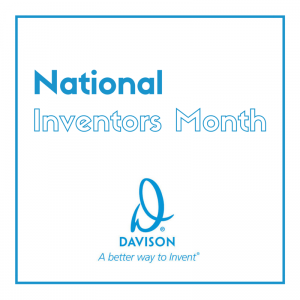 National Inventors Month is underway and we're starting this month-long celebration off with some motivation – after all, it is Monday!
So, what exactly does National Inventors Month entail? The month of May is reserved for the celebration of invention and creativity, which began in 1998 by the United Inventors Association of the USA (UIA-USA), the Academy of Applied Science and Inventors' Digest magazine.
At Davison, we take great pride in our clients who had ideas and believed in them so much that they turned to us to help make their invention dreams a reality. For us, we treat every month like it's National Inventors Month as we champion the idea people who continue to create and innovate every day.
The purpose of National Inventors Month is to promote the inventors whose ideas have served as real contributions to the world.
Today, to kick off our celebration of all things inventing, let's take a look at some of the motivational quotes from perhaps the most prolific inventors in history!
"There is no substitute for hard work." ­ ­– Thomas Edison
"When one door closes, another door opens; but we so often look so long and regretfully upon the closed door, that we do not see the ones which open for us." – Alexander Graham Bell
"The ones who are crazy enough to think they can change the world are the ones who do." – Steve Jobs
"When something is important enough, you do it even if the odds are not in your favor." – Elon Musk
"Ninety-nine percent of the failures come from people who have the habit of making excuses." – George Washington Carver
Now that you've read the words of some of the most notable inventors, do you feel inspired to make today the day that you begin your inventing journey? For every inventor, it takes one step forward outside of their comfort zone to pursue that idea that's been living in their mind for quite some time.
All it takes is a little courage, a lot of creativity and a healthy dose of perseverance to one day turn your dreams into reality!
Copyright Davison, 2016