Often times, we share community events, fundraisers and benefits that we think you may be interested in helping with. And, just as often, the Davison Team comes together and makes incredible contributions to support the various causes.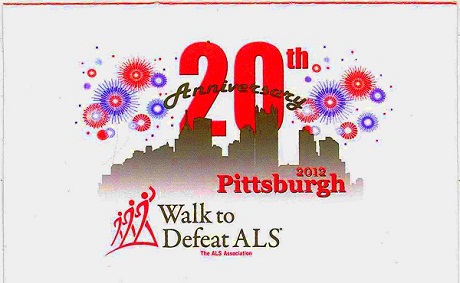 Most recently, our team pulled together in less than two weeks to donate toys for the 2012 Marines' Toys for Tots drive. Thanks to our efforts, nearly 224 children were able to receive holiday gifts this season.
We've also just received two awesome "thank you's" from a couple other causes we contributed to last year. And, we were so moved by the thanks, we just had to share.
Last September, Mr. Davison supported the Walk to Defeat ALS®. Walk organizers were more than grateful for the donation:
"Mr. Davison & Inventionland Crew,
Thank you very much for your generous support of the Pittsburgh Walk to Defeat ALS! Enclosed is a thank you video with scenes of Walk Day, thank you cards from some family members and walk t-shirts for the staff. This is just a small token of our great appreciation of your support! We also enclosed information about the 2013 Walk. We hope to work with you again on this great event.
With heartfelt thanks,
Jenni Franz
Another community project, the Aspinwall Riverfront Park Project, sought our help so that they could even keep their mission alive. Their "thank you" gesture was absolutely moving!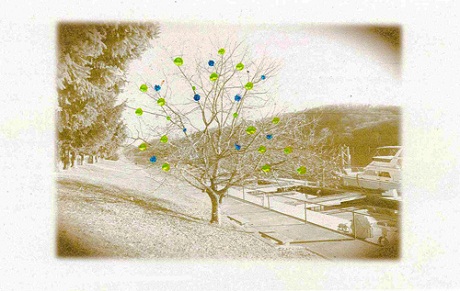 Mr Davison,
Thank you for your support and [for bringing] such creativity into the world.
"In 2011, when we decided to purchase the Aspinwall Marina to turn it into a park, many thought it impossible. Simply put, the odds were not in our favor. The facts were: the sale was complex, large and sophisticated companies had tried to buy the property and failed, and last, but not least, $2.3 million would need to be raised in a matter of months. Chances were that a small, grassroots effort, backed by the Fox Chapel District Association and Friends of the Riverfront, would be able to pull it off "when pigs fly."
As I write to you, it's been a little over a year since our community proved that we have what it takes to make pigs fly. Once again, what we're trying to achieve seems entirely unrealistic to some. The odds are challenging. It takes most communities ten years to build a park – and we don't intend to build the average park. The deadlines we have now are ones we put on ourselves. Our model isn't typical. Instead of relying on taxpayers, we're building an endowment and healthy business that will pay for the park's upkeep (and we're doing this at the same time we're trying to build the park no less). The economy is sluggish. We all have many important things competing for our time, money and attention.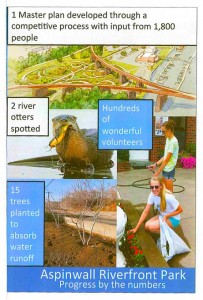 But, like you, we believe in possibility. And, big audacious goals. And, the potential to create something wonderful and lasting. When I look in the eyes of the kids who mowed lawns and sold lemonade, the hundreds of volunteers this year who planned parties, planted flowers, and removed thousands of pounds of concrete, weeds and garbage from the property – it's crystal clear that our work is even more important this time around. We need to build Aspinwall Riverfront Park, so that kids who worked so hard can enjoy it while they are still kids. Our goal is to have some portion of the park open to the public by the end of 2013. We're looking forward to working with you to reach it.
It's the greatest privilege to be part of something that will be a permanent gift to this generation and the ones to come. Thank you for your on-going support that makes what seems impossible possible.
With gratitude and our best wishes for the happiest of holidays,
Susan Crookston and the Board of Aspinwall Riverfront Park (Davitt, Chip, Kevin, Tim, Trish, Tim, Scott)
Thank you to all members of the Davison Team who so willingly contribute to these great community causes! Keep up the great work!