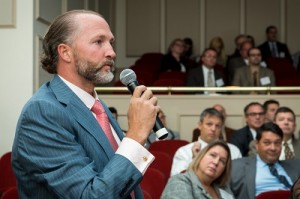 On September 24, Mr. Davison took to the microphone at the 27th Annual St. Barnabas CEO Leadership Conference in Gibsonia. While at the conference, Mr. D shared the trials and tribulations that he has experienced both in his personal life and in his career.
Aside from these ups and downs, Mr. Davison has found great success within the industry and it showed not only to the people in the room but to people from all over the world that if you have a dream, you can achieve it.
Mr. D told those in attendance his story of growing up in poverty after his parents' divorce and how he discovered, after many failed business ventures, however big or small they were, that he no longer wanted to sell other people's products; he wanted to sell his own.
And that is exactly what he did. Mr. Davison took his failures in stride and created a better way to make his dreams come true through hard work and perseverance. That determination paid off when he created Inventionland, America's largest invention factory and was called a "creative genius" by Entrepreneur Magazine.
Before Mr. Davison departed from the stage, he left the more than 200 senior executives at the conference with this piece of advice, "Find what you like to do. Look at it. Study it. What do you see? Is that what you want to do?"
We think that it's safe to say that through Mr. D's failures he found a better way to create success.
Copyright Davison 2013