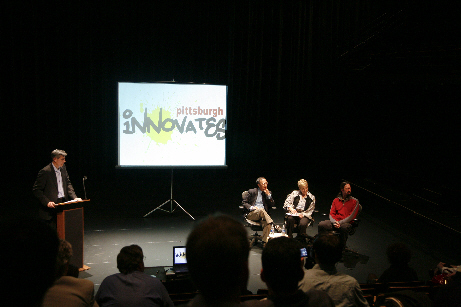 Inventionland was featured at the Pittsburgh Innovates contest awards at cityLIVE! Monday night as one of the top 10 out of more than 75 entries. People from 58 countries cast more than 40,000 votes for their favorite innovations in the Burgh. Although the "world's most creative workspace" did not win a prize, video clips of Davison's Inventionland were shown and it was also a point of discussion.
While talking about fostering creativity through creative workspaces, one of the four panelists pointed to Inventionland and commented, "It can be done." The moderator also stated, "We're all very familiar with Inventionland."
The winner of the People's Choice award was Quasi by Interbots of CMU, the winner of the Judge's Award was The Differential Generator by John Kelly, and the winner of the Audience Award was Growth through Energy and Community by GTECH.
Joey Warren, senior concept designer, and Nathan Field, executive creative coach, represented Davison at the event. Nathan offered an invitation to tour Inventionland to the panelist judges – Jack Lew of Electronic Arts; Catherine Mott founder of BlueTree Capital Group and BlueTree Allied Angels; Mark Re, senior vice president of research and technology development at Seagate Research Center; and Jay Katarincic, managing director of Draper Triangle Ventures.
They and all the other Pittsburgh innovators surely will become even more familiar with Inventionland in the future!