As National Pet Month comes to a close, we're reflecting on all the inventions that make the lives of our pets just a little bit better.  Today, we're taking a look at a product that truly has innovated the way we tether our pets outdoors:  the Better Tether.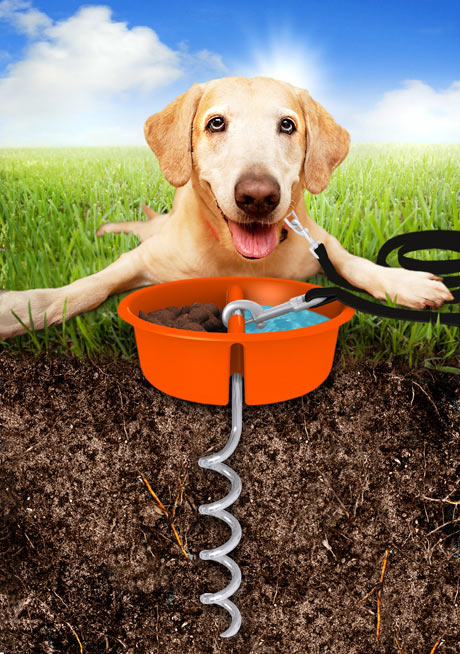 That's right, this week, we're unleashing how the humane tethering device, the Better Tether, was made.
Ed Yoder and his dogs were inseparable; so, it was only natural that when Ed was outside gardening, mowing the lawn or just enjoying some sun, his pups wanted to be there, too.  But, Ed got tired of his dogs knocking over their food and water with their traditional tethers while he completed his yard work.
Ed longed for a better way to allow his pets to remain outdoors with him.  So, he started working on an idea that would provide more convenience for his pets… and for him.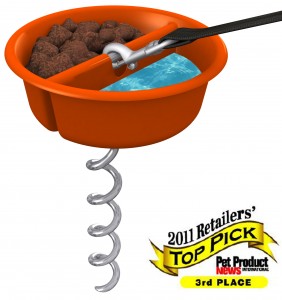 Ed's Better Tether is devised with a divided dish that holds food and water, solving pets' outdoor hunger and hydration needs.  Unlike traditional tethers, the Better Tether actually sits at ground-level, thanks to a strong steel post that securely anchors the dish into the ground.
Since pet owners attach their beloved pets' leashes to the steel post, the Better Tether is impossible to spill and even avoids the lawnmower, because of where it sits.  The dish is bright orange, too: so, it's visible day or night.
Success for Ed, his dog and pets everywhere?  We'd say so:  The Better Tether was licensed by Hugs Pet Products and was named a 2011 Pet Product News International Retailers' Top Pick.
A typical project does not get a royalty agreement, sell in stores or generate a profit.