At the beginning of this week, the Pittsburgh Business Times began a month-long series of articles where they sought out to find and showcase "the most interesting, inspiring and attractive office spaces in the Pittsburgh region."
Where did the Pittsburgh Business Times' Coolest Offices Month showcase begin? None other than at our friends over at Inventionland's creative design facility! Yes, they were featured as the first, coolest office of September!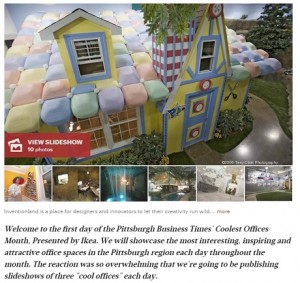 In the write-up of "WHY WE HAVE A COOL OFFICE," the Pittsburgh Business Times' listing states:
"Inventionland is America's largest invention factory, where new products are designed, engineered and packaged by creative professionals who work inside 16-unique themed sets. Ideas are conceived at the round table in the Inventalot Castle, take root inside Davy's Treehouse, come to life inside the Animation Attic and really take off at the Inventionland Motor Speedway, just to name a few. Our innovators are inspired by the sights and sounds of a shipwrecked pirate ship, three running waterfalls, life-like trees and grass-lined sidewalks."
What an awesome way for our friends at Inventionland to start out September! See the entire Pittsburgh Business Times' Coolest Offices Month showcase on Inventionland here!
Copyright Davison, 2015