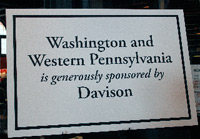 As a Business & Industry Council member of the Sen. John Heinz History Center, Davison was sole corporate sponsor of the presentation: "Washington and Western Pennsylvania." The innovative, entertaining and educational program explored the varied lives of George Washington in the region.
The well-received "Washington and Western Pennsylvania" program included a behind-the-scenes exhibit talk by the head curator of the museum and presentations by scholars. An overview by an actor-historian from Mt. Vernon portraying "The General" and actors portraying soldiers of the French & Indian War brought the history of the region to life. In addition, the program included a tour of the groundbreaking "Discover the Real George Washington" exhibition.
Davison is delighted to support such a great program that is helping to educate a new generation about the Father of our Country. Andrew Masich, President and CEO of Sen. John Heinz History Center, expressed his thanks in a warm letter to Mr. Davison.
"Again, many thanks for Davison's support. Working together, we can ensure that this region takes its proper place in the annals of history and leads the way in history education." – Andrew Masich.