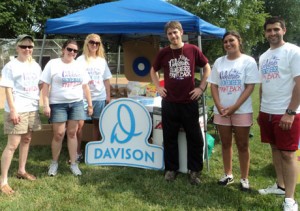 The 2011 Riverview Relay for Life in Oakmont, PA was an overwhelming success, in part because of the sponsorship of Davison and the creative contributions from our "Dare to Invent" team. The largest fundraiser in the world, the American Cancer Society's Relay for Life, gives everyone a chance to celebrate the lives of people who have battled cancer and remember loved ones lost, while fighting for a cure.
Young "Relayers" were continually visiting the "Dare to Invent" site (#54) to test their skills at a Nerf dart shooting game and an Einstein "brain bag" toss game. Kids who got a bullseye or got the "brains" inside Einstein's head (making a lightbulb light up) got to pick out a toy (the movie star sunglasses were a hit!). They also had fun coloring and putting together models of T-Rex, pterodactyl and stegosauras from cardboard pop-out kits. The activities were created by Davison's Corporate Creative Coach, Jonathon, and Trevor, package design engineer, with assistance from designers, Tess and Bev.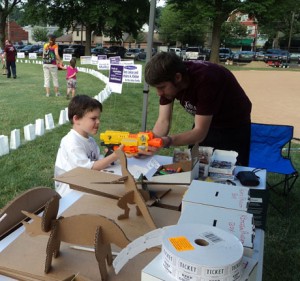 Everyone put in a lot of time, and laps around the track, especially a few employees, who stayed at the park the entire 24 hours! They even stuck it out through a downpour and thunderstorm during the night!
"The team pulled through and we did a great job for first-timers. It only rained hard for a couple hours, and my tent and canopy are very water proof," said Jonathon. "We've got bigger and better plans for next year and hope to triple the size of our team and activities."
In addition to the company's sponsorship, the Davison team raised money by charging 25 cents to play the games or 50 cents to build a dinosaur, as well as raffling off two baskets of Davison products and a stack of Inventionland books.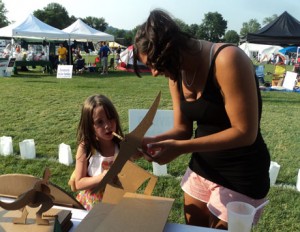 In addition to the company's sponsorship and employee donations, the team raised money through the games and the raffling off of Davison products and a stack of Inventionland books. Several team members also purchased luminaries to honor loved ones who have battled cancer. During the moving ceremony, glowing luminaries marked with the names of individuals who have battled cancer lined the track and were placed on the bleachers to convey "HOPE." The many names were read aloud as the images of survivors and those who lost their battle were shown, followed by a moment of silence.
The Riverview Relay had a goal of raising at least $103,000 to reach a total of $1 million in its 11th year. However, during the final count on Sunday morning, they were about $6,000 short of their goal – but, at the last minute someone came out with an anonymous $10,000 check! "Overall the event raised $106,014, which is absolutely incredible!" reported the captain. "It was really touching and sort of like what you see in movies," added Emily, a team member. "Overall, it was a great time, and hopefully next year will be even bigger."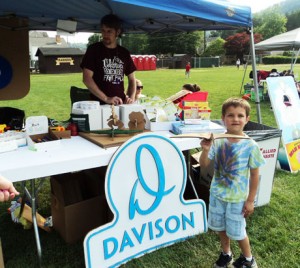 That is certain, as Jonathon, who has been busy delivering the prizes to raffle winners, is already making ambitious plans for the 2012 Relay.
Hint — it's going to involve a lot more Nerf guns, targets and dinosaurs — and even more fun!