Yes, there is indeed a day on which we celebrate quaffs big and small, short and long, straight and curly. It's "Hairstyle Appreciation Day," and it is April 30th.
There is simply nothing better than lovely locks. The bob, the beehive, the mullet, the mohawk, the Hamill Camel, corn rows, afros… oh hair!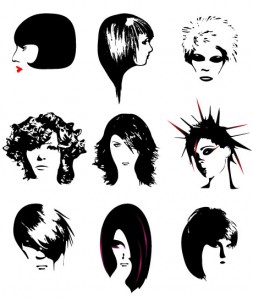 We made a musical about it; spend billions of dollars to tame it, color it, grow it; and we buy wigs and add weaves to make it better than that we can grown on our own.
Ours is a culture obsessed with hair. It's nothing new. As long as there have been humans, there has been hair envy. The Egyptians, the Greeks and the Romans paid attention to every hair on their heads; and it's pretty much the same today.
But, let's focus on some more recently invented hairstyles. If nothing else, it's good for a laugh. We could have told you that anything called 'the beehive' was a bad idea! 🙂
Stylish, Inventive Hairstyles to Celebrate
1950s:  Plenty of Elvis imitators could be seen walking around. Guys were super slick with greased-up pompadours and ladies were lovely with long bobs and equally-stylish pixie cuts. The bouffant was also big (literally) and the ponytail made an appearance.
1960s:  Plenty of the looks from the 50's had staying power… and the beehive was born. Bigger was clearly better; looks were full-bodied and voluminous! Generally speaking, curlers were 'in' and hairstyles took quite a bit of work to achieve perfection.
1970s:  Holy hippies! Looks were longer and less 'done up.' Parted in the middle and straight down to the waist was a common style. The shag made an appearance and the feathered look was hot, thanks to Farrah! The Hamill Camel, popularized by figure skater Dorothy Hamill, was a terrific short hairstyle. And, many African-Americans popularized a more free look with the advent of the afro.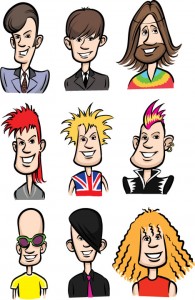 1980s:  Hair was BIG. Big bangs and Aqua Net hairspray were a must. We basically looked like founding members of Motley Crue. The mullet was another equally-unflattering 80s look. Tails were a happening look for guys (and by happening, we mean we should have never let that happen!)
1990s:  The 90s were less hideous than the 80s, which isn't saying much. Apparently, we took some cues from George Clooney and Jennifer Anniston. 'The Rachel' was popularized, thanks to a character on the hit-show, Friends. And, guys started to emulate George Clooney's Caesar-esque 'do. Sideburns got long and grunge looks gained some popularity. There was generally more variety and fewer big-haired fools polluting the environment with aerosol cans.
2000 and beyond: The modern mane pretty much comes in all sizes, colors and styles. Straightening irons are hot (literally and figuratively), but waves and curls, both loose and tight, are also in. Bangs are big and messy; un-styled 'do's are nice for summer. MTV tends to influence the younger folks to add streaks of color or height on top. Red carpet up-do's remain popular for fancy affairs. Color, highlights and lowlights have been a mainstay in the millennium so far.
Recently, there also has been a Davison-designed product that has been "making waves" in the hair industry!  Stylists Emilio and Gino brought their over 40 years of hair-styling expertise to Davison, along with an awesome idea for trimming your own bangs at home.  Beautiful Bangs, a sleek, easy-to-use tool for maintaining style at home, emerged!
What will the next "mane" attraction be?  Time will tell!  Happy Hair Day!
(The Beautiful Bangs client has not realized a net profit)
A typical project does not get a royalty agreement, sell in stores or generate a profit.