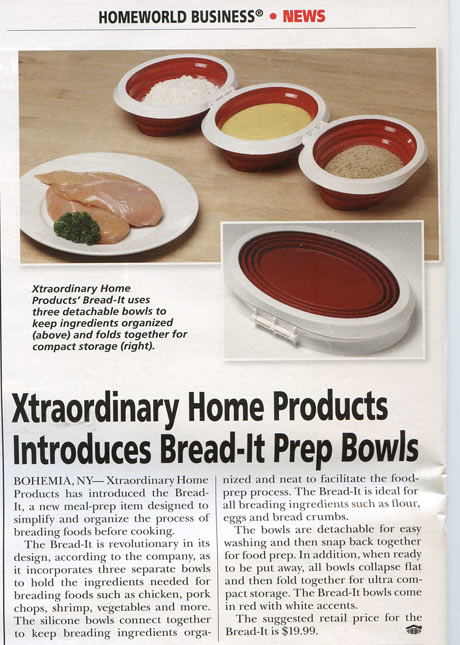 The Bread-It meal-prep product that we created for Xtraordinary Home Products is featured in the latest edition of HomeWorld Business magazine! The innovative item, which keeps breading ingredients neat and organized, is also headed to the marketplace — It will be for sale in the Solutions catalog and on QVC in February!
"It's great to see; it's good exposure, and hopefully that generates more interest in the product," said Davison's VP of Licensing. He also reported that Bed, Bath & Beyond is very interested in the Bread-It, so we may have even more good news to share in the future.
The VP spoke with Marie Louise Ludwig, the QVC host who will be presenting the product. "She really likes it; she thinks it's neat. Now it's just a matter of whether consumers think so," he said. "The design team did another good job with this product. I'm sure we'll get good results."
The president of XHP was surprised with how quickly the product appeared in the magazine. "Funny how this got press so fast," he wrote in an email about the article.
Apparently, the editors know great innovation when they see it! Congratulations to all those on Davison's corporate design team who worked on this awesome new product — Great work everyone!