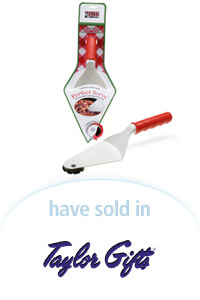 The Perfect Serve, Davison's new combination pizza cutter and spatula, is now for sale in Taylor Gifts, a popular online retailer. The innovative kitchen gadget makes it easier to neatly slice and serve a pizza without having to cut through repeatedly, or use your fingers to help dish it up.
We developed the Perfect Serve pizza cutter and with a non-slip rubber handle, so users can secure a tight grip as the stainless steel wheel slices through pizza crust and all of the toppings. The cutting wheel is located at the front of the spatula to avoid rubbing knuckles across hot pizza, and the contoured edge conforms to the crust of the pizza for serving it to friends and family. Not only great for pizza, it can also be used for dishing up dessert after dinner! 
This corporate product was invented and licensed by Davison for its own benefit.