Chef Tony – Greaseless Grillers
A Better Way to Grill Without the Grease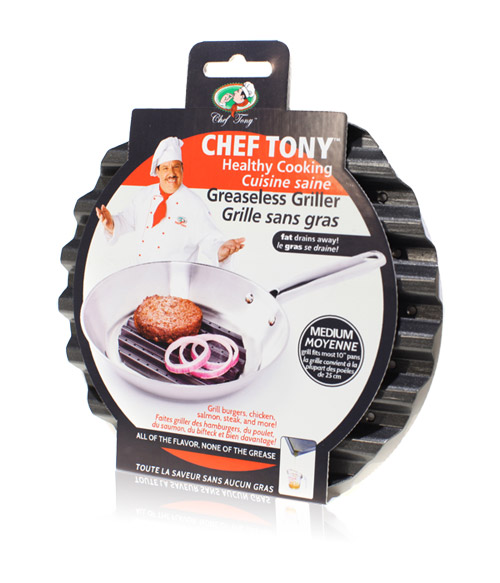 The Problem:
There is nothing quite like the taste of a juicy burger hot off of the grill. Though it's delicious, why must these tasty grilled burgers hold on to so much grease?
Davison's Better Way:
We designed the Chef Tony Greaseless Grillers so that you can still enjoy the delicious taste of a grilled meal without the grease – right from your stovetop! Simply, line the bottom of a skillet with one of Chef Tony's Greaseless Grillers and you can easily cook your favorite cut of meat as the grease drips away and out of sight! This innovative product is available in two different sizes to accommodate medium and large-sized pans.
Featured in the following stores:


Amazon
Zulily.com
Bed Bath & Beyond
Wayfair
Linens-N-Things
Key Ingredient
Woot.com
Other Davison designed Chef Tony products:
This is a corporate invention and the same 9-step Davison Inventing Method is used to develop each idea, for idea people who work with us on their ideas or corporations that ask us to invent for them.