Chef Tony – Burger Dogs Pan
A Better Way to Make a Healthier Hot Dog Alternative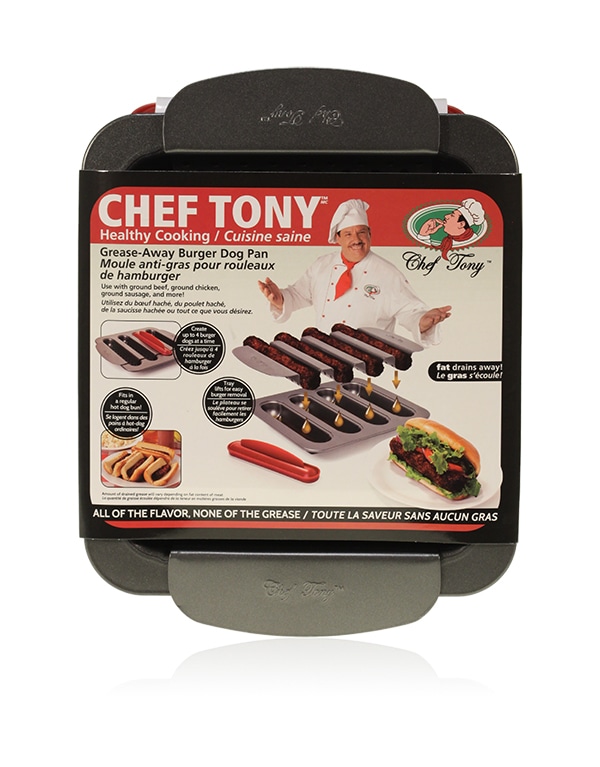 The Problem:
For Davison client, Ingrid, the ingredients in regular hot dogs were particularly troubling. While hot dogs are often a crowd favorite at cookouts and picnics, Ingrid wanted to find a better way to cook a healthier alternative to hot dogs.
Davison's Better Way:
Ingrid brought her idea for a unique baking pan that would shape any preferred flavor or type of ground meat into the shape of a hot dog to Davison. The two-part pan that includes an easy-to-use form would drain the grease as the food cooked, creating a healthier alternative to hot dogs. Ingrid's idea went through product development to later be licensed under Love Cooking Company's Chef Tony line of healthy cooking bakeware! Now, the Chef Tony Burger Dogs Pan brings two all-American classics together for a tasty dish.
Featured in the following stores:


Amazon.com
Bed Bath & Beyond
LoveCookingCompany.com
Houzz.com
Wayfair.com
Other Davison designed Chef Tony products:
This client has not realized a profit on this product. A typical project does not get a royalty agreement, sell in stores or generate a profit.