Chef Tony – Mega Bacon Pan
A Better Way to Make More Crisp, Healthy Bacon at Once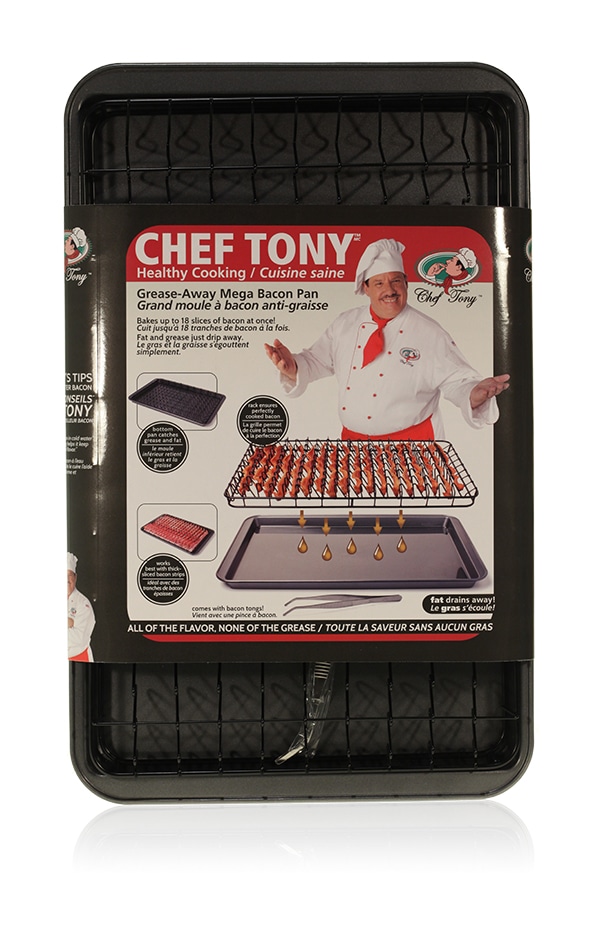 The Problem:
For bacon lovers everywhere, there can really never be enough bacon! Bacon can be a greasy mess when trying to cook it in a regular frying pan; plus, there's often no way to cook many slices at one time to feed a hungry table. Baking bacon in the oven is a healthier option, but even baking it on a baking sheet does not drain away unhealthy grease.
Davison's Better Way:
Davison client, Jean, created a better way to make her delicious meatballs more grease-free. From there, Jean's Meatball Baker idea evolved into the Mega Bacon Pan. While the original Mega Bacon Pan excited bacon lovers and even sold out on QVC, it couldn't hold enough bacon to feed a large crowd of humans hungry for bacon! By design, the larger, non-stick Mega Bacon Pan holds 18 slices of even thick-cut bacon on a diagonal to drain away the grease.
Featured in the following stores:

Amazon
LoveCookingCompany.com
Other Davison designed Chef Tony products:
The client has made a profit on this product. A typical project does not get a royalty agreement, sell in stores or generate a profit.