Chef Tony – Burger Bowls
A Better Way to Bake and Fill a Burger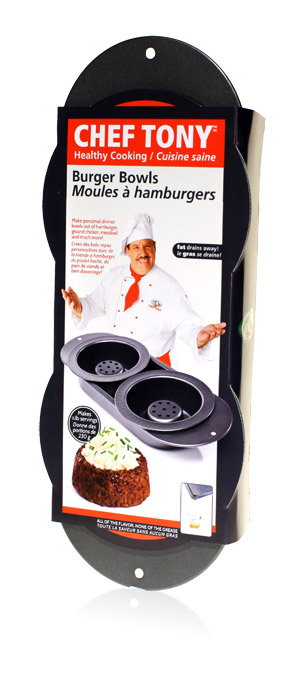 The Problem:
You may be hard-pressed to find someone who doesn't enjoy a good burger night! But, everyone loves something different on their burgers and sometimes, you may just want a great burger without the bun!
Davison's Better Way:
We created the Chef Tony Burger Bowls as a healthier way to make a meal out of a burger. The Burger Bowl pan is designed to hollow-out meat and includes a perforated bottom to drain grease away while baking. The end result is a tasty, grease-free burger that is ready to fill.
Here's where we left the creating to the user! The Chef Tony Burger Bowls can be filled with anything from mashed potatoes to macaroni and cheese for a complete, all-in-one meal. They also can be topped with lettuce, tomato and pickle and served with fries for a traditional burger night!
Featured in the following stores:

Amazon
Wayfair
Linens-N-Things
Other Davison designed Chef Tony products:
This is a corporate invention and the same 9-step Davison Inventing Method is used to develop each idea, for idea people who work with us on their ideas or corporations that ask us to invent for them.