Wireless Turn Signal Mirrors
A Better Way to Enhance Driving Safety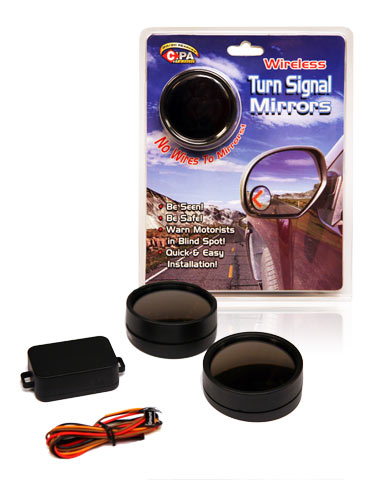 The Problem:
Changing lanes on the highway can be hazardous, especially when a passing vehicle is in a driver's blind spot – the driver can not see the other vehicle without turning around. In addition, the passing driver often does not see the turning vehicle's flashing signal in time to prevent an accident.
Davison's Better Way:
Davison created the Wireless Turn Signal Mirrors to provide a view of blind spots and enhance turning safety. The two convex mirrors with embedded electronics attach to the side mirrors of a vehicle. As a turn signal is activated, an illuminated arrow flashes on the appropriate mirror – without connecting wires to the vehicle's electronics. The mirrors, which we developed for CIPA, can be installed easily using the quick connects in a trunk or hatch. Simply stick the spot mirrors on the side mirrors and you're done!
Featured in the following stores:

Twins Recreations
RV Parts Supplier
Truck Spring
Car ID
Pickup Daddy
Autobarn
JC Whitney
Amazon.com
Auto Toys
Hitch Finder
PPL Motor Homes
RV Bargain Parts Outlet
Soderblooms
Performance Parts 4 Less
Longhorn Truck
Monticello TV Center
Street Side Auto
XL Off Road
Al's RV Service & Supply
RV Parts Country
Active RV & Trailer Supplies
Tognotti's Auto World
AutoWerks of America
wUnderCarParts
Waldoch
DrawTite - Hitches
Truck Pro USA
Reese-Hitches
Weathers Auto Supply
Street Side Auto
Auto Parts Warehouse
Other Davison designed CIPA Packaging and products:
This is a corporate invention and the same 9-step Davison Inventing Method is used to develop each idea, for idea people who work with us on their ideas or corporations that ask us to invent for them.