Lighted Euro Sport Mirror
A Better Way to Showcase Product Features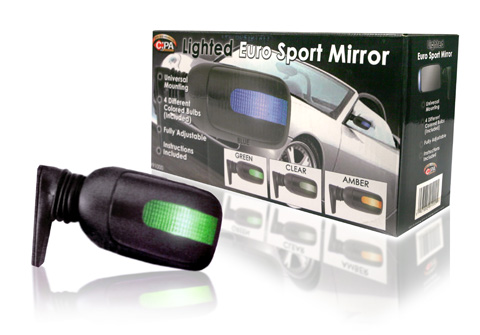 The Problem:
Car enthusiasts often enjoy replacing current factory car parts with updated modern accessories. An after-market automotive accessory manufacturer designed the Lighted Euro Sport Mirror to meet this need. Trying to communicate the many benefits of the product in the packaging was the task the manufacturer posed to Davison.
Davison's Better Way:
Davison created a new packaging theme that focused on vibrant glossy colors and crisp, high-resolution imaging. The result is a package that shows the product in use and how it looks with different colored bulbs, which are included. Now a consumer can easily understand the product and envision how it will look on their vehicles.
Featured in the following stores:


Kmart
Auto Barn
Fix This Ride
GP Bikes
Truck Customizers
AutoAnything
California Car Cover Co.
Headingley Sport Shop
J & B Cycle & Marine
M & M Performance
Auto Tuning Store
Auto Parts Zone
Pick Up Daddy
Truck Accessories Online
Amazon.com
Builder Depot
Automotive Concepts
Auto Anything
Other Davison designed CIPA Packaging and products:
This package design was invented and licensed by Davison for its own benefit.