Dora Slideshow Tumbler
A Better Way To Dinner Time Interactive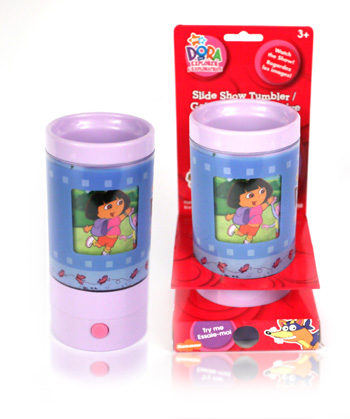 The Problem:
Making dinnertime fun and interactive for small children is often a challenge. Most dinnerware is not interactive. What if a cup could really get a child's attention and encourage them to drink all of their milk or juice?
Davison's Better Way:
We decided to liven up mealtime with an interactive Slide Show Tumbler, featuring Nickelodeon's popular "Dora the Explorer" and "Diego" characters. When a child pushes the button near the base of the colorful tumbler, the cup lights up and an animated filmstrip turns, to the delight of the child.
Featured in the following stores:

Other Davison designed Dora Explorer products:
This is a corporate invention and the same 9-step Davison Inventing Method is used to develop each idea, for idea people who work with us on their ideas or corporations that ask us to invent for them.