Spoon Rest
A Better Way To Protect Countertops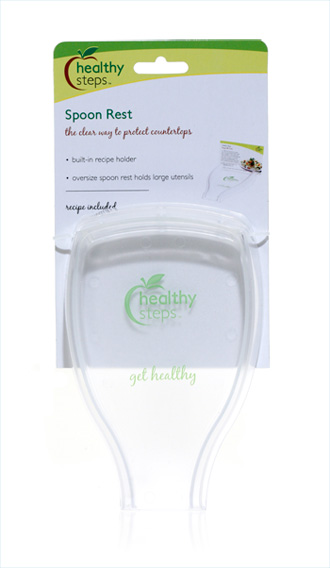 The Problem:
People don't usually use their spoon rests for spatulas because they don't fit. Cooking healthy meals at home means using utensils that can make a mess on countertops and stovetops.
Davison's Better Way:
We created the Healthy Steps Spoon Rest to hold everything from small spoons to large spatulas, thereby protecting countertops and stovetops from messy drippings. In addition, the handy built-in recipe holder provides the perfect resting place for recipe cards while cooking.
Featured in the following stores:

Lucky Vitamin
Amazon.com
Taylor Gifts
Organize.com
Starcrest California
The Home Marketplace
Bon Cui
Grab Cart
Picnic World
Yohiba
Shopping Warehouse
Delice Ville
This is a corporate invention and the same 9-step Davison Inventing Method is used to develop each idea, for idea people who work with us on their ideas or corporations that ask us to invent for them.