Serving Ladle
A Better Way to Portion Gravy, Sauce and More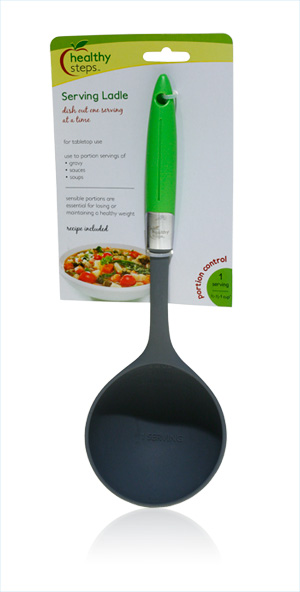 The Problem:
People don't usually know how to portion their food in healthy amounts when cooking and serving. Serving just the right amount of gravy, sauce or soup to ensure a healthy, satisfying meal can be difficult.
Davison's Better Way:
The Healthy Steps Portion Serving Ladle provides portion control for serving cooked meals right at the dinner table. The stylish appearance is perfect for serving guests and family alike. Simply fill to the "gravy" line for cream-based gravy or sauce, fill to the "sauce" line for non-cream based sauces, and fill to the top for soup. Since the portion sizes are tucked away on the inside of the ladle, no one will know you are measuring!
Featured in the following stores:

Tools2Parts
Delights Ville
Hbees
Shopping Warehouse
Delice Ville
Remodelr
Outdoor Pros
Plumber Surplus
Home Garden & Outdoors
Farm & Home Supply Center
The Westview Shop
Specialty Gourmet Goodies
Fashionable Savings
Givemart
Micha Kitchen
Gracious Home
Amazon.com
Taylor Gifts
Buy Zone
Antares Pro
Dollar Days
Lucky Vitamin
Giant
Organize.com
Central Chef
Bon Cui
Grab Cart
Picnic World
Le Gourmet Chef
Gizar.com
Yohiba
This is a corporate invention and the same 9-step Davison Inventing Method is used to develop each idea, for idea people who work with us on their ideas or corporations that ask us to invent for them.