Salt Shaker
A Better Way to Control Salt Intake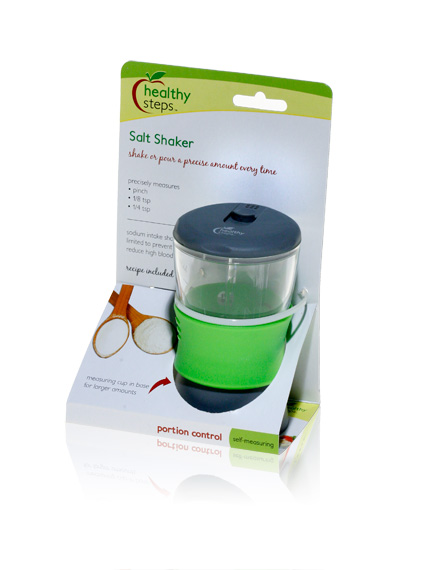 The Problem:
Limiting sodium intake is an effective tool in preventing high blood pressure, edema, and strokes. For the healthy adult, the USDA Recommended Daily Allowance (RDA) for sodium intake equals no more than 2,400 milligrams of sodium per day, which is just a tab more than a teaspoon of table salt. But limiting the amount of sodium used at the table can be difficult, particularly when using an ordinary salt shaker.
Davison's Better Way:
The Healthy Steps Salt Shaker makes it easy to dispense a precise amount of salt every time. The Salt Shaker is a measuring dispenser and a tabletop shaker, all in one! It measures and dispenses in the following increments a pinch, 1/8 tsp, 1/4 tsp. To use, simply hold the center ring, turn top chamber to the desired measurement, rotate dispenser on the lid over the small chamber and turn over to dispense. To free pour, rotate lid over large chamber and turn over to dispense. Twist the bottom to remove the measuring cup from the shaker for larger amounts. Hand wash with soap and water.
Featured in the following stores:

Newegg
Delice Ville
Remodelr
Outdoor Pros
River Road
The Westview Shop
Hbees
Givemart
Buy Zone
Plumber Surplus
Amazon.com
Organize.com
Dollar Days
Taylor Gifts
Giant
Bon Cui
Gracious Home
Grab Cart
Picnic World
This is a corporate invention and the same 9-step Davison Inventing Method is used to develop each idea, for idea people who work with us on their ideas or corporations that ask us to invent for them.